Air Jordan XIV – Air Jordan 14
Original Air Jordan 14 (XIV) Release Colorways
Air Jordan Original 14 (XIV) Black Toes White / Black – Varsity Red
Air Jordan Original 14 (XIV) Candy Cane White / Black – Varsity Red
Air Jordan Original 14 (XIV) Oxy White / Black – Oxidized Green
Air Jordan Original 14 (XIV) Last Shot Black / Black – Varsity Red
Air Jordan Original 14 (XIV) Indiglo Black / Black – White – Indiglo
Air Jordan Original 14 (XIV) Low White / Obsidian – Columbia Blue
Air Jordan Original 14 (XIV) Low Varsity Royal / Black – White
Air Jordan Original 14 (XIV) Low Light Ginger/Black-White
Retro Air Jordan 14 (XIV) Release Colorways
Air Jordan 14 (XIV) Retro Light Graphite / Chartreuse – Black
Air Jordan 14 (XIV) Retro White / Chartreuse – Black
Air Jordan 14 (XIV) Retro White/Black-Deep Forest Green-Light Graphite
Air Jordan 14 (XIV) Retro Womens Black / Real Pink – Metallic Silver
Air Jordan 14 (XIV) Retro White / Dark Cinder – Chutney
Air Jordan 14 (XIV) Retro White/Varsity Red-Linen Womens
Air Jordan 14 (XIV) Retro Black/Light Graphite-Met Silver-Redwood
Air Jordan 14 (XIV) Retro Last Shot Black / Black – Varsity Red
Air Jordan 14 (XIV) Retro White / Black – Varsity Red
Air Jordan 14 (XIV) Retro Black / University Blue – Metallic Silver
Air Jordan 14 (XIV) Retro White / Black – Varsity Red – Metallic Silver
Air Jordan 14 (XIV) Retro Low White/Pacific Blue-Met S-Bright Ceramic
Air Jordan 14 (XIV) Retro Womens Low White / Cerise – Classic Green
Air Jordan 14 (XIV) Retro Black / True Red – White Countdown Pack
Air Jordan 14 (XIV) History
The Air Jordan 14 has room in every ones hearts. Maybe not by the looks, but the Air Jordan XIV was the last model Air Jordan Michael Jordan wore in a Chicago Bulls jersey.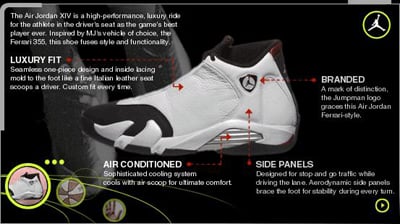 At the time Michael owned a Ferrari F355F1. The design of the Ferrari F355F1 looks exactly like the shield on the Air Jordan XIV, and the vents on the side of the Ferrari F355F1 were also used on the Air Jordan XIV.
The Air Jordan 14 was the first to have silver tips on the laces, which also had a Jumpman logo. Each pair had a total of seven jumpman logo's, which together equals out to fourteen (XIV).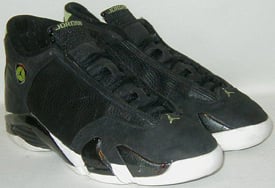 Low profile Zoom Air Units were located at the forefoot and heel. If your feet sweat while you play, then the vent on the side should help out.
With all the good qualities of the Air Jordan XIV you might think nothing could go wrong with them, but sadly there are a couple minor flaws. The toe box area would come unglued over time. Also the teeth on the sides (phylon midsole) would crease very quickly.
In 1998-1999 five color ways released of the Air Jordan 14 ($150.00), and three low models ($130.00). In 2005-2006 a total of ten color ways re-released of the AJ XIV ($150.00), and two low models re-released ($130.00).