Air Jordan X – Air Jordan 10
Original Air Jordan 10 (X) Release Colorways
Air Jordan Original 10 (X) Steels White / Black – Light Steel Grey
Air Jordan Original 10 (X) Charlotte Hornets White/Black-Dark Powder Blue
Air Jordan Original 10 (X) Shadows Black / Dark Shadow – True Red
Air Jordan Original 10 (X) Chicago Bulls White / Black – True Red
Air Jordan Original 10 (X) Seattle Supersonics White / Black-Kelly-Yellow Gold
Air Jordan Original 10 (X) Orlando Magic White/Black-Royal Blue-Metallic Silver
Air Jordan Original 10 (X) New York Knicks White/Black-Royal Blue-Orange Flame
Air Jordan Original 10 (X) Sacramento Kings Black/Dark Concord-Metallic Silver
Retro Air Jordan 10 (X) Release Colorways
Air Jordan 10 (X) Retro Steel White / Black – Light Steel Grey – Varsity Red
Air Jordan 10 (X) Retro White / Obsidian – Ice Blue – Varsity Red
Air Jordan 10 (X) Retro Black / White
Air Jordan 10 (X) Retro White / Linen – University Blue
Air Jordan 10 (X) Retro Womens White / Ice Green – Varsity Red
Air Jordan 10 (X) Retro White / Varsity Red – Light Steel Grey
Air Jordan 10 (X) Retro Womens White / Medium Violet – Light Graphite
Air Jordan 10 (X) Retro Black / Dark Shadow – True Red Countdown Pack
Air Jordan 10 (X) History
Michael Jordan was now away from the game of basketball, and he began a relatively short lived career in baseball.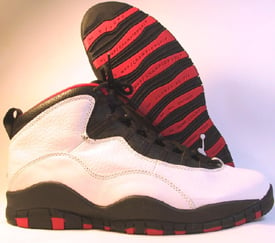 Many people thought the Air Jordan line was done, even Nike, but Tinker Hatfield had a different thought.
The Air Jordan 10 was the first model that Michael Jordan did not approve, he had talked to Tinker at the beginning stages of development, but nothing was set in stone. The quality of the shoe was up to par with huarache inner sleeve, leather uppers and quick lace system, but something was not right with them.
When the Air Jordan X was released, a lot of the models had a strap of leather going across the top of the toe, but then Nike came out with a clean-toed version (just how Michael liked his shoes). When Michael returned to the NBA he did wear the Jordan 10, with his new number "45" on the side.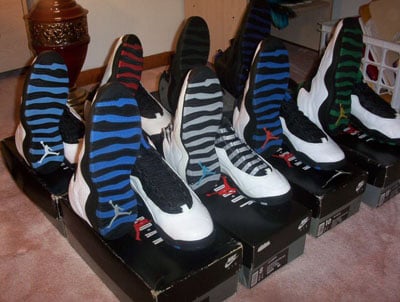 Since Tinker and the people at Nike really thought that MJ was hanging the towel up for good, they wanted to show appreciation to what Michael had accomplished in his career. On the sole of the Air Jordan X Tinker and Nike listed Michael's milestones for every year in the NBA (from 1985 to 1994) which are:
* 85 ROOKIE OF YEAR
* 86 63 POINTS
* 87 SCORING TITLE
* 88 DUNK CHAMP
* 89 ALL DEFENSE
* 90 SCORES 63 POINTS
* 91 MVP/CHAMPIONSHIP
* 92 MVP/CHAMPIONSHIP
* 93 MVP/CHAMPIONSHIP
* 94 BEYOND
In 1994 when the original release of the Air Jordan 10 came out, a total of three models released, and a regional pack which had five different color ways representing five selected teams. Those lucky teams are – Sacramento Kings, New York Knicks, Orlando Magic, Seattle Supersonics and the Chicago Bulls, and a pair of Air Jordan X cleats were released, all retailing at $125.00. When 2005 hit Jordan Brand knew it was time to re-release the Air Jordan X, so they sold for $125.00 and a total of 7 color ways and two of them were for women.