Air Jordan V (5) Retro – 'Bin 23' – New Images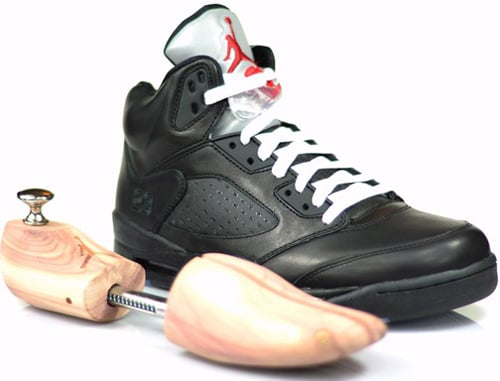 Yesterday full images of the Air Jordan V 'Bin 23' surfaced, and now we have a images of a full 360 view of this up coming colorway. Dressed enirely in a black smooth leather upper, with metallic grey teeths, and 3m tongue. These feature a pair of white laces on the shoe, but appears to have another set hanging. The iconic Jumpman logo is replaced on the heel area, by the Bin 23 enigma. More info on a release and the inspiration for this colorway will be on the way soon, as for more check out the rest of the photos after the jump.
~ Soleless
Brian Betschart
Founder and Editor of SF, Brian is considered an expert when it comes to sneakers. Collecting since he was in elementary school, his collection has grown to over 500 pairs and counting. Brian has published articles since 2004, and in 2006, he decided to create Sneaker Files.