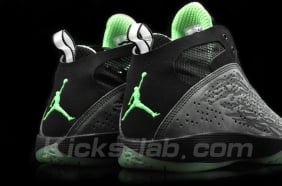 Since the debut of the Air Jordan 2009 & 2010, only a select few colorways were released and rightfully so. Those two models weren't exactly hits as far as casual functionality was concerned.

The Air Jordan 2011 has made leaps and bounds in both style and performance which means more colorways! Check out this new Black/Grey- Electric Green version which features more of a traditional 'Dunkman' look than the actual LeBron 8 PS.

Is Electric Green the new Eggplant? Let us know how you feel about these AJ2011's and the use of Electric Green on nearly every popular model.

Via KL