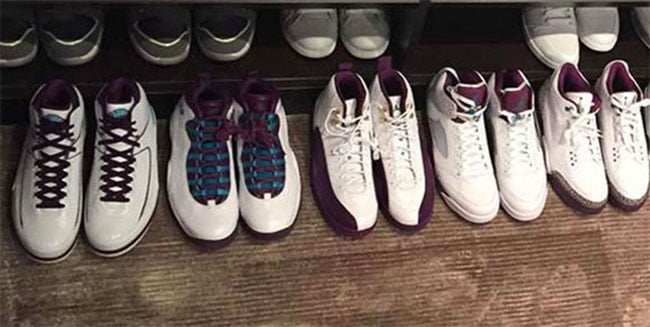 The Air Jordan 10 'Hornets' will release apart of Jordan Brands Spring 2016 collection. Rumors have already spread that more Jordan 10s will launch, which includes a city pack series.
It isn't known if the Hornets Jordan 10 will be apart of the City Pack, but so far we do know that New York, Los Angeles and Chicago will be represented.
Back in 2014, you may remember when Michael Jordan took over the Charlotte Hornets Twitter page, which he showed off Air Jordan's in the OG color scheme representing the franchise.
From the image presented above, we can see that through the base is mainly white leather. In addition, teal accents are seen through the tongue and eyelets. Following up is purple that counters the teal used. We have also heard that the cities name will be embroidered on the heel.
As of now, a specific release date for the 'Hornets' Air Jordan 10 is not known, but they are slated to release Spring 2016. Make sure to check back with us for more information and images.
Air Jordan 10 Hornets
Release Date: Spring 2016
Source: TSG