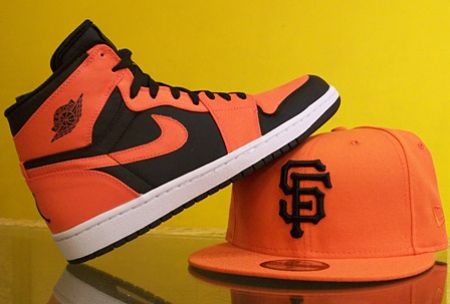 Looking to complement that pair of Max Orange Air Jordan I (1) that you just got? Well you don't have to look any further than the new True x New Era 59FIFTY fitted hats. A collaboration between the legendary hat company New Era and the classic San Francisco based store True Clothing, comes a collection of hats inspired by various legendary articles of clothing such as the Air Jordan 1. The hats utilize the New Era 59FIFTY collection, which is the most popular line of hats that New Era creates since not only are they the most comfortable fitted hats, but also the same ones that college and professional athlete use both on and off the field. Never skimping on quality, True Clothing's selection of using the New Era 59FIFTY was only a natural choice for their hats, as their collection of hats is among the available today.

This hat and the rest of the True line is available at the True Clothing online store.

Special thanks to our good friends at True in San Fran for showing us around the store. More photos from True in San Francisco coming soon!
For this particular line of hats, True Clothing was definitely inspired by the Air Jordan 1 since it utilizes some of the same colors as the max orange / black Air Jordan 1, as it can be seen from the picture above. It is predominantly Max Orange with Black lettering. The stark contrast in colors of the hat make it a real eye-catcher and would definitely draw attention to an individual's "freshness" to detail. It is not yet known if these hats would come in NBA, NFL, or NHL type flavors or if teams outside of the San Francisco Giants will be available, but either way these hats are a definite buy for those who are hat enthusiasts or those who want to.