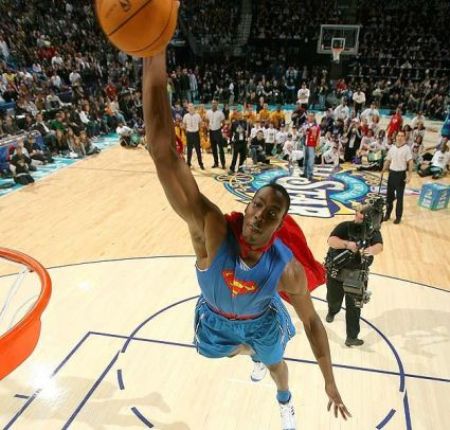 There was Magic in the air during the 2008 NBA All-Star Dunk Contest (presented by Sprite) in N'awlins, Lousiana. Donning a Superman cape and magnetic smile, Dwight Howard catapulted himself into the annals of Dunk Contest history with a slew of sick, sick slams. (DH placed second in the event when it was held in Las Vegas in '07, too.) But what makes Howard so special? Surely, Vince Carter, Dee Brown, and Nate "The Great" Robinson deserve their spot in any "Dunker" discussion, but the Orlando Magic Center has two things goin' for him. At just a shade under 7'0", no one even close to D's has captured the crown with such proficiency. And Before Dwight, the slamma-jamma showdown was merely a competition of brawn, athleticism, and authority. AD, (After Dwight) the competition has become one of props, flair, and superhero alter-egos!

Peep our top ten list of the Top 10 Slam Dunk Contest Trendsetters (presented by Sprite).

Share your thoughts and debate our choices of the top 10 (Sprite) Slam Dunk Contest Trendsetters by clicking below!

Alright, so it wasn't a dunk. There's no way around it. With Howard sporting Superman garb, he rose up from inside the free throw line, extended his arms as far out as possible, and tossed the ball down into the peach basket. Afterwards, Mr. Howard stood tall like Christopher Reeve before the accident and accepted his trophy. Thankfully, his performance (and past performances) in the Dunk Contest were special. All told, the ManChild has stuck a sticker at the top of the backboard (which stands at 12'6") and has thrown the ball off the backside of the board and wind milled around it for a thunderous bing-bong. Dwight Howard is also participating in the 2009 NBA All-Star Weekend Dunk Contest in Phoenix this weekend. What's he got up his cape?
During his two-year Dunk Contest tenure, Dwight has rolled with the Three Stripes, sporting ASW versions of the adidas TS Pro Model and adidas TS BOUNCE Artillery. To learn more about the NBA's top dunking trendsetters, please visit our Top Slam Dunk Contest Trendsetters series.