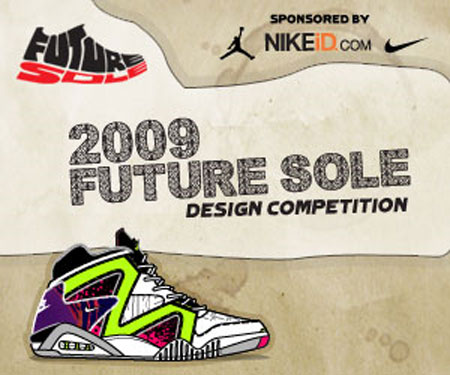 In April, Nike launched the 2009 Future Sole Design Competition. High school students between the ages of 14-19 interested in footwear design enter their renderings into one of two categories: Nike or Jordan. The grand prize winner of the competition will receive $7,000 in supplies and software, and will also be greeted with a round-trip flight to "The Beav" to meet and talk kicks with Nike's in-house creators. Registration will end on June 1st, so prospective entrants, get your work in!
After entering the competition, we encourage you to become a part of the Sneaker Files x 2009 Future Sole Side Competition. To join, enter a tagged rendering of your design (Yes, your design MUST BE TAGGED!) following this format: SNEAKERFILES.COM x "Your Tag". Next, upload your work to Photobucket. To finish strong, send Sneakerfiles a message on our Twitter (@Sneakerfiles) account with a link to your design included. We'll pick two winners who will win a pair of Air Jordans in their size. Finalists will be announced on August 5th, so get it crackin', people!
For more information, please visit the Future Sole website.
Good luck and g'day!