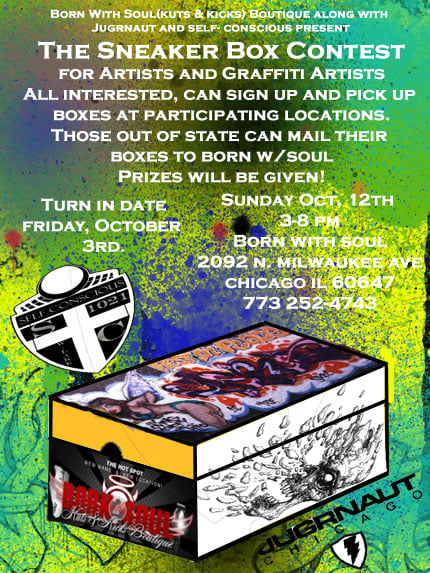 Sorry for the Drag Sam. My Apologies.
Attention all artists and graf artists!!! Born With Soul is at it once again!!
With the help of Self-Conscious and Jugrnaut in Chicago, we are throwing a "
Sneaker
Box Contest".  Pick up a Nike sneaker box at any of the three locations and kill it with some dope art then return the box no later than October 3rd to Born With Soul. Draw whatever you desire, just make sure it is dope!
If you have any questions, contact Born With Soul @ 773.252.4743.
Contest party is tentatively set for Oct. 12th 3-8pm. Date may change so we will keep you posted. Prizes will be awarded for best art and best graf boxes. Please spread the word to any and all artists.
Support Chicago Artists!