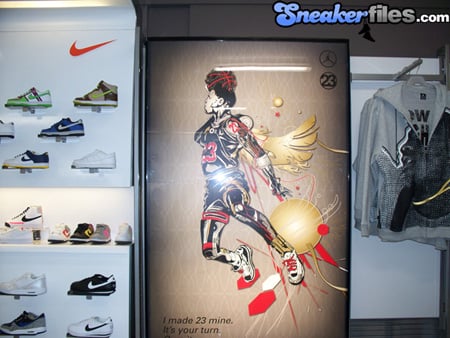 The Sneaker Files team recently paid a follow up visit to Shiekh Shoes in San Francisco, CA. We were greeted almost immediately upon entering by a very friendly and familiar face, Abdul Haleem, VP of Operations for Shiekh Shoes. He was proud to start off the tour by showing us the very flashy Nike section, which was unlike any other sneaker display that any of us had seen. The Nike section was full of new releases and classics alike, most notably the back wall full of Air Force 1's, which included a great variety of color ways. There were posters up on the walls and mannequins modeling Nike clothing. It was really hard for us to leave this section, but Abdul had assured us that there was more to see.
Second, Abdul took us upstairs and showed us something that many of us had never seen or expected: an upstairs salon. The Shiekh salon is ran by Ellis Cummings Jr., who told us that he actually had the opportunity to cut Method Man's hair when he was in the store shopping. Men and women alike have a place in Shiekh shoes, both on the sales floor and upstairs in the salon. The salon is beautifully designed and very aesthetic.
Abdul made it a point to tell us that his goal is to look at a customer leaving the store and know that he has taken care of that customer head to toe, which is the exact direction that Shiekh is headed in. Shiekh is aiming to be a one-stop fashion shop, not to mention the fact that they will soon be opening a night club in the very same store! Rest assured we will be back to cover the night club as well! All in all, we had a great time visiting Shiekh Shoes San Francisco, and if you're in the area check them out!
929 Market Street
San Francisco, CA. 94103
1-415-644-0920