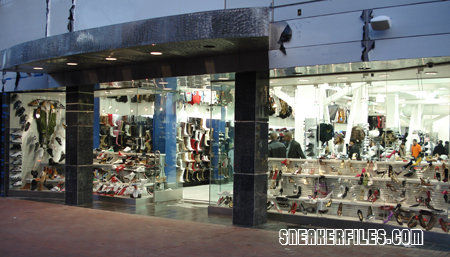 Friday December 22nd 2006 was the grand opening of the Shiekh Shoes in San Francisco, and Sneakerfiles.com was there. When you walk in the store the first thing you notice is the excellent customer service, people there are really nice and sneaker heads so they know what you want.
Next thing you will notice is the displays in the floor of Air Jordan's, Nike Air Force Ones and other Nike's, some dating back to 2004. The very stylish displays just adds to the beautiful look of the store. Also you get a very nice vibe when your in Shiekh shoes, it may be from the friendly employees, or the very beautiful look, or maybe the great selection of sneakers, something a lot of other sneaker stores lack.
To make your time at Shiekh Shoes as pleasant as possible, soon a DJ will be spinning music for everyone, and right next door to that (under the same roof) will be a hair saloon, all this will come around 2 to 3 months.
If your in the San Francisco area or taking a trip to SF soon, Shiekh Shoes on Market Street is a must stop spot, I can guarantee you will not want to leave. A big thanks to Osman, Abdul and the rest of the Shiekh Shoes crew for the wonderful hospitality.
929 Market Street
San Francisco, CA. 94103
1-415-644-0920
(Map)