We knew a new collaboration with Poler and Nike SB was coming, but we didn't know it was going to be this big. A total of four sneakers are releasing which are the Nike SB Blazer, SB Dunk High OMS, SB TrainerEndor Low and SB Lunar Gato. Coupled with the sneakers are some matching clothing including beanies, jacket and a long sleeve.
Poler and Nike roots started in Oregon. Both being respected for what they do and it was only a matter of time that a bond would form which started in 2013 with the first couple of releases between Nike and Poler. Inspiration behind the line comes the Pacific Northwest. Shades of orange and white are frequently seen through the collection that takes on the feel of Oregon's coast.
The Nike SB x Poler 2014 collection is available on November 22nd 2014. For more information and retail prices for each, see below.
Nike SB x Poler Blazer Premium SE Canvas
Colorway: White/Orange
Release Date: 11/22/2014
Retail: $85
Product Number: 647656-022

Nike SB x Poler Dunk High OMS
Colorway: Rugged Orange/Ale Brown/Baroque Brown
Release Date: 11/22/2014
Retail: $140
Product Number: 536182-822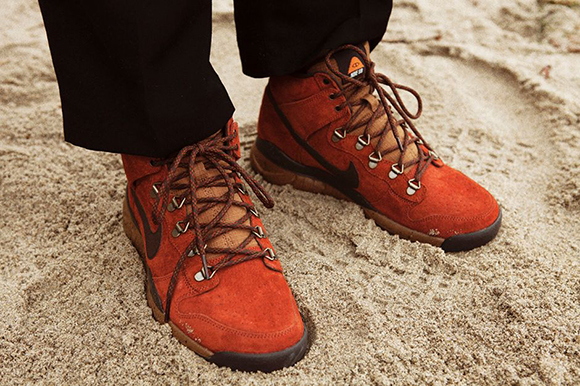 Nike SB x Poler TrainerEndor Low
Colorway: Velvet Brown/Khaki/Field Brown/Ale Brown
Release Date: 11/22/2014
Retail: $95
Product Number: 616691-222

Nike SB x Poler Lunar Gato
Colorway: Tawny/Light Bone/Gum Light Brown/Baroque Brown
Release Date: 11/22/2014
Retail: $95
Product Number: 616484-080