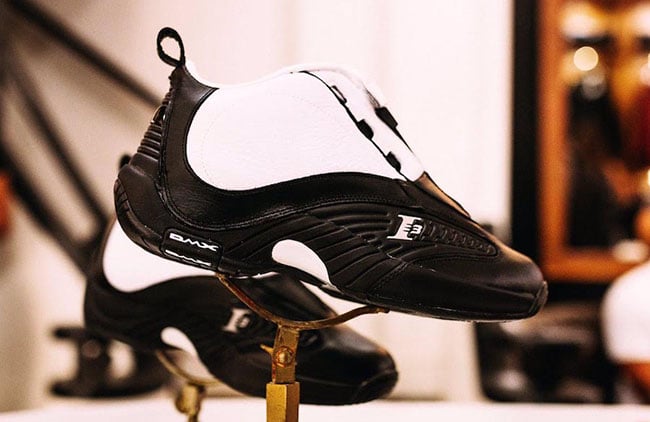 Dating back to 2001, Game 1 of the NBA Finals was a memorable moment for Allen Iverson. Iverson did what is known throughout the world as the 'Step Over'. After draining a 20 foot jump shot, he stepped over Ty Lue.
As a tribute to that moment, Reebok will release once again the original colorway he wore during the game which is known now as the Reebok Answer IV 'Stepover'.
Reebok Answer IV is being re-released in its OG construction, with a Black and White premium leather upper on top of a black sole unit featuring the patented DMX cushioning system. A zippered shroud covering the lacing system and an image of Iverson on the outsole surrounded by the phrase 'Only The Strong Survive' provide the defining details on this innovative design.
Reebok Answer IV Stepover Release Date
The Reebok Answer IV Stepover will release exclusively at Lapstone & Hammer on June 9th, 2017. They will debut at 11AM in-store and online on a first come, first served basis.
That night from 7pm-10pm, Lapstone & Hammer will host an invitation only in-store event to be attended by Allen Iverson.  The only way to be added to the guest list for entry into this exclusive event is to purchase one of the first 100 pairs in-store. Online purchases are not eligible for event entry. 
Out of the first 100 in-store purchases, 20 lucky "Golden Ticket" winners will be chosen at random for a VIP experience featuring Allen Iverson at the event. The party will feature a DJ set from hip hop legend and sneaker aficionado, DJ Clark Kent, as well as an interactive gallery exhibit designed and curated by Najeeb Sheikh featuring: a mural by Mecro, video projections by Klip Collective, and a display of vintage Iverson artifacts by Rare Vintage, all commemorating the unforgettable "Stepover" moment.
Update: The Reebok Answer 4 Stepover first released on June 9th now following on the 10th another released took place at 2PM EST on lapstoneandhammer.com.