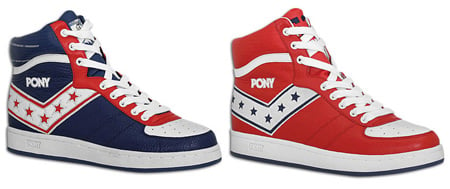 Darryl Dawkins was given the nickname Chocolate Thunder during his playing days in the '70s where he would shatter backboards and posterize any defender who got in his way. While he was becoming one the best dunker's in the history of the NBA, he wore the Pony Uptown.
To honor his accomplishments, Pony will be releasing a limited edition set of Uptowns inspired by the Philadelphia 76'ers jerseys. Smooth leather and embossed writing detail the shoe with the addition of his signature and jersey number being embroidered on the tongue. Via Josh Wilson.
The Darryl Dawkins Pony Uptown is now available in Navy and Red via Eastbay.