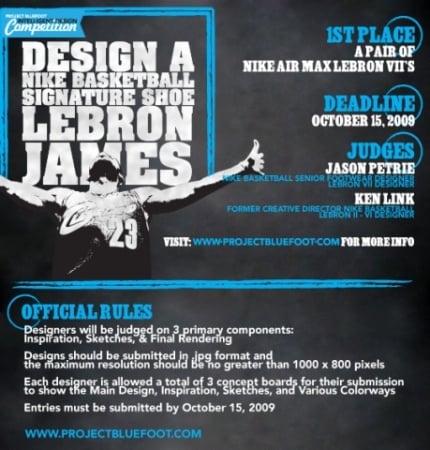 If you're an aspiring designer looking to refine your technique, break into the industry, or rap with other up-and-coming (or more established) designers, Project Bluefoot is for you. If you're a shiftless bum with no artistic talent but enjoy discussing the technical merits of athletic footwear and admiring the handiwork of others like myself, PBF is also for you.

The second installment of PBF's Intelligent Design Competition was announced yesterday. Entrants will be asked to design a Nike Basketball shoe fit for royalty — King LeBron James, that is.

Nike BB Footwear Designers Jason "Alphaproject" Petrie and Ken Link will be judging the renderings.

To peep work from Bluefoot's inaugural competition, click here.