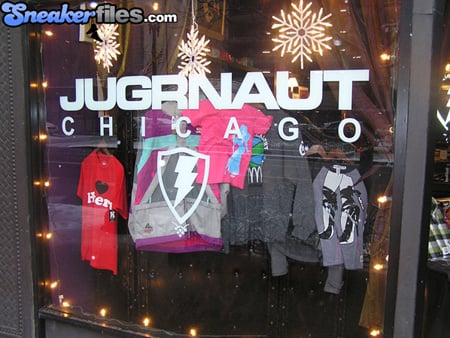 Smashing through the fashion culture with urban street wear as well as a hint of the kicks and vintage toys comes the JUGRNAUT bitch! ready to hit you with your own pimp with vintage polo clothing and other urban brands as well as vintage toys for the toy heads out there.
As you know that most sneaker heads look for some tight gear and be original instead of going mainstream and wearing the same brand as their shoes, Jugrnaut has what you are looking for from vintage polo's to urban street wear.
Brian "Owner" says: "Jugrnaut is a fashion boutique specializing in street wear and vintage apparel and our name means to be that "unstoppable force" that were trying to be in this game and definitely be universal instead of all city"
Joker, Co-Owner says: "It's a lifestyle store and we also sell urban vinyl toys and vintage comic book toys so there's definitely a vibe that you'll feel in the store as well as different elements of stuff that we love so we combined it with the store"
Polo, BTK, Diamond Supply Company, Mighty Healthy, Ackrylik, Kilo Good, LRG as well as local Chicago brands like Enstrumental, Iridium, Remedi, Style Gazelle but there is a lot more brands that the store carries.
They also have a section for the ladies including Hellz Bellz And Toki Doki
Toys
Joker, Co-Owner says " The thing with some of the other stores is that they do the urban vinyl which is cool but we want to do that and the vintage joints that we grew up with like G.I. JOE, X -Men and stuff like that because when you come through here we want to create a vibe and touch base with everything that our customers grew up with whether it's a skateboard a t shirt or toys".
Some of the toys Jugrnaut Carries include Start wars, Transformers, X-Men, Michael Lau, Original Fake Toys and lots more.
Thanks to the whole Jugrnaut Crew for the love and Sorry for the lag and thanks for the parking guys much Appreciated.
– Oscar Castillo Aka Wreckinkickz
Links and Address:
Myspace.com/jugrnautchicago