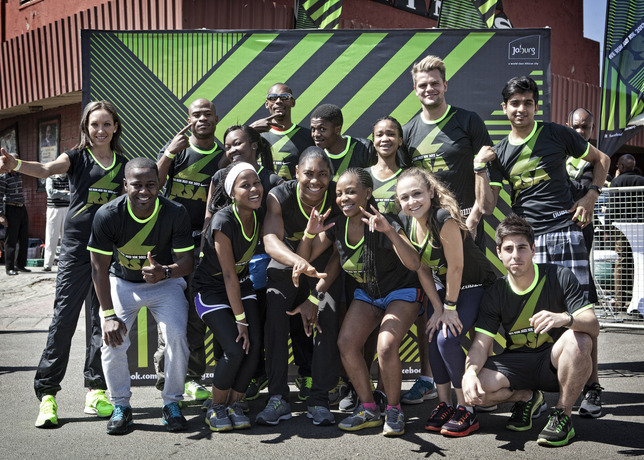 Nike's We Run series for 2012 continued with an additional 10K race in Johannesburg, South Africa.
Nike today launched its WE RUN JOZI 10 kilometer race to be held on October 7, 2012, and is one of 34 races to take place in Nike's 2012 global We Run series which aims to inspire, enable and connect runners around the world. 
Twenty thousand South Africans will form part of the 395,500 runners from 34 cities participating in the We Run 2012 Series, which connects runners through Nike's most innovative and digitally advanced Nike+ technology. The series commenced September 1 in Prague and will travel to countries across Africa, Asia, Central Europe, Middle East and Latin America before concluding in Brazil in December. 
Behind the curtain of the iconic Kings Cinema in Alexandra, Nike revealed to media, renowned and aspiring athletes and celebrities that Johannesburg will play host to the brand's first morning race in country. The race follows on the heels of Nike's sold-out, inaugural "Run Free. Run Jozi" 10 kilometer race in March, which brought together 10,000 runners to participate in the most socially connected night race. Thanks to the success of that race, capacity for the WE RUN JOZI race has been doubled. 
Runners can expect a unique race experience. For the first time, this season's race route has not yet been disclosed. The route will be revealed once the 20,000th entrant has registered for the race. Everyday athletes will be encouraged to collectively inspire one another to help reveal the route by registering onwww.facebook.com/nikerunningza. Race goers will have the opportunity to expose sections of the route, revealing the course in stages, with the last entrant 'crossing the 10 kilometer finish line' and unveiling the final point in the race. 
Nike athlete 800-meter 2009 World Champion and 2012 London Games medalist Caster Semenya attended the launch and was the first to sign up and unveil the start of the race, which will see the 20,000-strong field lining up on Katherine Street in Sandton at 9 a.m. on race day. 
Anwar Jappie, Marketing Director of Nike South Africa, said: "The highly anticipated 'digital route reveal' encourages 20,000 everyday athletes from South Africa to make their mark on the global Nike We Run circuit and truly be a part of a great running movement.  The WE RUN JOZI 10 kilometer race also calls upon these everyday athletes to find their greatness by setting new personal best challenges and accomplish a new goal in their training routine or personal lives. Sharing their achievements via Nike+ instills a power of greatness as runners connect to the global running community where their achievements are acknowledged."
In the build-up to race day, Nike's popular Nike+ Run Clubs and training session will provide runners with coaching tips and paced runs to ensure they are ready for what will be a challenging course. 
Semenya was joined by a number of renowned athletes and young, aspiring runners to unveil the race day T-shirt that all runners will wear. The black T features a bright volt colored WE RUN JOZI 10k logo emblazoned across the chest. The T also features a pre-printed race number and will be part of the race pack fee. 
The race is divided into two catetgories, namely Student and Open, with the registration fee pegged at R70.00 (including VAT) per student with a valid student card, and R150.00 (including VAT) per Open Runner.  A portion of the race fee will benefit the youth athletes of the Alexandra Running Community. 
The online registration for NIKE's WE RUN JOZI 10 kilometer race opens on Wednesday, September 5 at noon through the official race page on Facebook: www.facebook.com/nikerunningza 
Nike's WE RUN JOZI 10 kilometer race is in partnership with the City of Joburg, and supported by Central Gauteng Athletics and MTN.