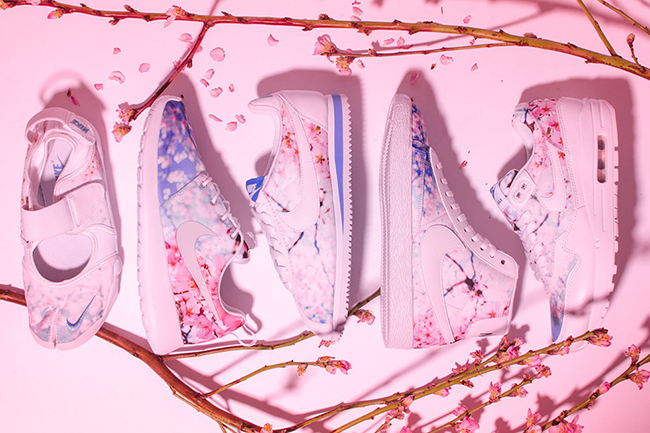 Nike Sportswear will have us thinking of Spring as we are in the middle of Winter. They have a new 'Cherry Blossom' pack that features the Nike Air Max 1 and Nike Roshe One.
Both models will feature a White base which steam lines through the midsole and sole. The use of a colorful cherry blossom graphic with shades of Blue, Pink, Red and a hint of Brown covers the uppers of the Roshe One. The Air Max 1 will also use the graphic, but a bit more subtle.
The good news is that you don't have to wait till Spring to purchase the Nike Sportswear 'Cherry Blossom' Pack as they are now landing at retailers. One of the locations you can purchase from is Renarts. Retail for the Roshe One is $85 while the Air Max 1 will cost you $110. Note that both pairs are a women's exclusive, so make sure to size accordingly. Keep scrolling below to take a closer look at both models.
Update: At first, only the Roshe One and the Air Max 1 were spotted apart of the Nike 'Cherry Blossom' Pack. Now joining the two is the Air Rift, Cortez and Blazer Mid. Our latest look comes from Sivasdescalzo, while the pack will be available early February.