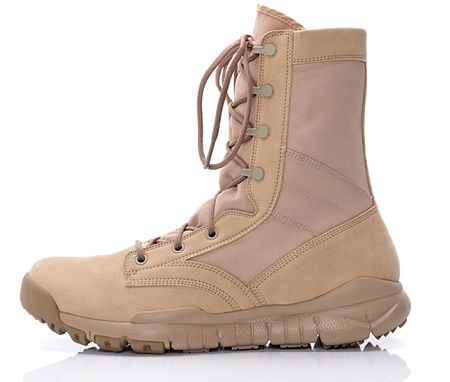 Although most will look at these boots and find them to be fashionable alternative for a rainy day, Nike did not set out with that mind when they were making the boots. This cream colored Nike SFB represents Nike's delve into the world of creating boots for hikers, high-speed operators, and first-response teams as well as America's military responders. Basically people we rely on when we are in trouble. Here Nike set out to create a boot that was lighter and allowed for the foot's natural motion while at the same time decreasing the addition of heavy overbuilding, which traditionally yields boots that are stiffer, heavier, and less breathable. They achieved all of that and then some in the Nike SFB. The SFB is perfect for warm weather due to its breatheable fabric and is the lightest, fastest drying, and natural motion boots to be developed. Nike created the Natural Motion Cushioning that helps allow for aptimal support and speed for heel to toe transfer. This basically allows for the boot to form to the foot while drastically reducing the weight of conventional boots.

The SFB also have the best traction of any boot out now since the outsole of the boot is fitted with a directional traction heel sole, which utilizes reverse tread bars and a slightly raised heel for better traction that helps with the control during downhill travel. The boots also have strategically placed Sticky Rubber forefoot lugs that allow for exceptional agility and traction in any terrain. If that wasn't enough for you and you're concern for protection then you can sleep well with the fact that the boots also have a puncture and laceration resistant thermoplastic in the forefoot as well as a Kevlar sheath underneath the genuine leather. More pictures after the jump.

Via Sneaker Freaker.