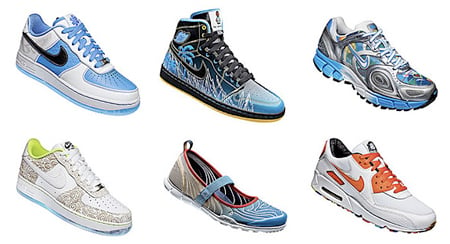 Just days after reporting the first of the Nike Doernbecher Freestyle collection, we get a look at the rest of the models. As noted before, Nike and the Jordan Brand began teaming up with the Doernbecher Children's Hospital just last year.
They presented a variety of sneakers designed by patients with the proceeds of the sales going toward the hospital. The Air Jordan 1 "Mr. Bobber" designed by Tony Taylor Jr. was posted a few days, the whole collection can be seen above. The Doernbecher Freestyle 2008 Collection will be available exclusively at Niketown and Nike.com on November 14th.

Name: Brandi Berger, 15 
Hometown: Albany, Oregon 
Health issue: Diabetes 
Personal: Basketball fan, farm girl, exercise addict 
Shoe facts: Air Force 1 that pays homage to some of 
Brandi's top passions: hoops, health . . . and heifers! 
Winning auction bid: $8,000 
Name: Colin Couch, 18 
Hometown: Oregon City, Oregon 
Health issue: Heart condition 
Personal: Chef, actor, artist, raconteur 
Shoe facts: White Air Force 1 with lasered-on doodle 
patterns and the artist's signature bow tie. 
Winning auction bid: $8,000 
Name: Emily Giersch, 17 
Hometown: Oregon City, Oregon 
Health issue: Neurosurgery 
Personal: Born performer, elephant lover, dreamer 
Shoe facts: Nike Free Mary Jane slip-ons inspired by 
the surf, sun and sand of Hawaii. 
Winning auction bid: $7,000 
Name: Tony Taylor, 16 
Hometown: Portland, Oregon 
Health issue:  Kidney transplant 
Personal: Super-fan, sneaker head, wise guy 
Shoe facts: Ultra-collectible Air Jordan Retro 1 with 
a tropical twist, plus a cartooned nod to Tony's alter 
ego: Mr. Boober! 
Winning auction bid: $12,500 
Name: Staci Wright, 16 
Hometown: Eugene, Oregon 
Health issues: Cancer 
Personal: Shopaholic, globe-trotter, guardian angel 
Shoe facts: Splashy Air Zoom Vomero+ 3 loaded with 
colorful symbols of Staci's triumph over disease. 
Winning auction bid: Two pairs sold for $20,000 each