Nike Air Max 95 Snakeskin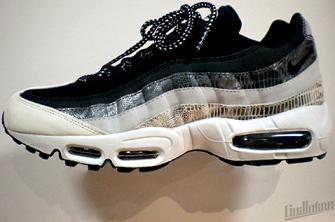 Nike definitely shocked a lot of us when news leaked out of a Nike Air Max 24-7 model that draws cues from both the Air Max 95 and 97. Now we're hit with more Nike Air Max news sure to get a reaction from most sneaker fans. Perhaps made most famous on the low-top silhouette of the Air Jordan XI, a snakeskin pattern has been incorporated into the Nike Air Max 95 pictured here. The pattern sits just atop the shoe's white sole and black bubble unit, with a mix of black, grey, and white finishing it all off. Scheduled to release some time in the first half of 2010, how many of you are thinking this is the best pair of Nike Air Max 95's coming out next year thus far?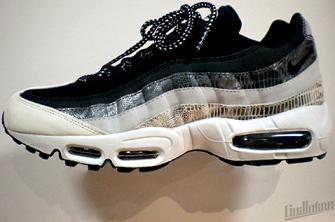 Brian Betschart
Founder and Editor of SF, Brian is considered an expert when it comes to sneakers. Collecting since he was in elementary school, his collection has grown to over 500 pairs and counting. Brian has published articles since 2004, and in 2006, he decided to create Sneaker Files.