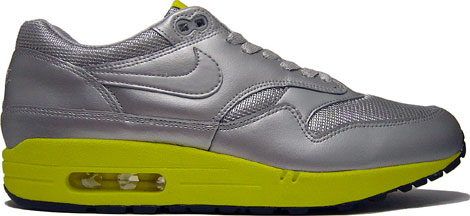 Purchaze received the
Nike Air Max 1 CMYK Pack in the "Metallic Silver/Metallic Silver-ZST-Anthracite" Colorway.
First introduced in 1987 with a visible Air unit and a highly-appreciated sneaker. Classic shape made of smooth silver leather and a silver mesh toebox also at the inner and heel lining. Featuring a very fresh yellow sole unit with anthracite outsole. Limited Quickstrike Edition!
CMYK (short for cyan, magenta, yellow, and key (Black), and often referred to as process color or four color) is a subtractive color model, used in color printing, also used to describe the printing process itself. The CMYK model works by partially or entirely masking certain colors on the typically white background (that is, absorbing particular wavelengths of light). Such a model is called subtractive because inks "subtract" brightness from white.
Check that out.
More pictures after the jump.