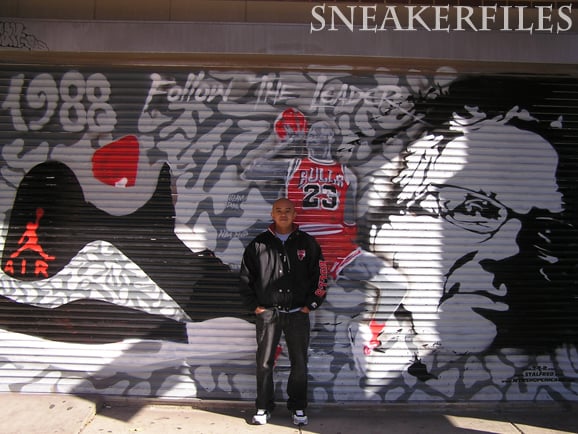 Walking through Wicker Park in Chicago, Some may have noticed the Air Jordan 23 mural on the St.Alfred gate and wondered who had done such a magnificent piece. The Art displays the love for the Air Jordan III and The mastermind behind the shoe itself, Tinker Hatfield and now Sneakerfiles gives you an in depth look at Mr. Pussyfoot aka Kane, The artist of the mural.
-Oscar Castillo aka Wreckinkickz and Chris Cason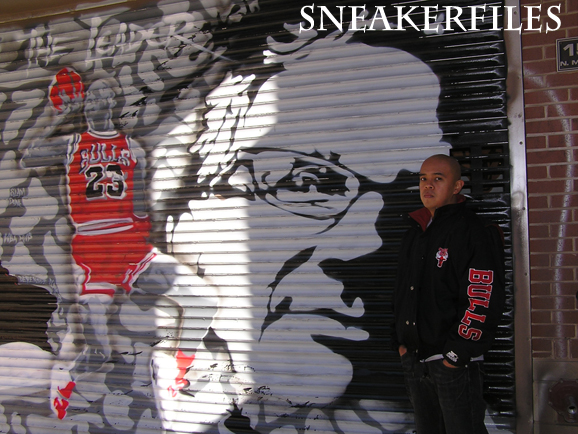 So Who is Mr. Pussyfoot?
"Mr. Pussyfoot was kind of a joke. I started painting a pair of shoes with a naked girl on the side and Pussyfoot used to mean sneaking around in the early 60's. It was a phrase that was thrown around a lot. Just to play out on English literature and word play. There's really not much else behind it. For awhile I started doing some artwork that revolved around sneakers, sexuality and being real explicit with the visual images that I was using. I did a show at the Montana shop last summer and that all that kind of culminated under. I was using lasering engraving on leather, but to actually do the images that I was working with, that's how I was tying both cultures together. Explicit art and the sneaker culture. The whole time that was going on, I was painting a lot of custom shoes and getting a lot of orders from different sneaker stores and customers. But, that's pretty much it. I came out with a couple of t-shirts, some designs under the Mr. Pussyfoot alias, but as of right now I don't really have too many plans for what else to do with that."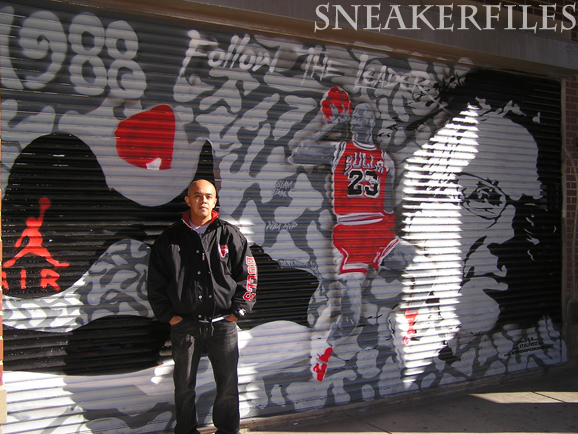 How did you come about choosing St.Alfred as a canvas?

"I had talked to Krabby about this idea I had well over a year ago. I was really unsure whether or not I'd be able to pull it off. It's just part of a larger project that I'm working on. So, when I approached them, I was ready to actually paint this project. They were the ones that asked me if they can get the number 3 mural on the wall. So, it's originally their choice. That's how it really came together and we didn't really even plan it. It just fell right into place. I was ready to do it a couple of weeks before the 20/3 pack dropped. So, it was really appropriate to actually do it. As far as the artwork, it's really self explanatory. It shows the actual Jordan shoe, a shot of Michael Jordan playing in that series that the shoe came out that year. It's him jumping in the air during his 1998 season and the reason Tinker's on there, because he's the actual designer of the shoe. The more I'm getting into learning the back stories of the shoes, I just felt like there's more appreciation that needs to be put on all the other people that were involved as well especially Tinker. People walk around with his designs all day long and might not even know where that elephant print came from."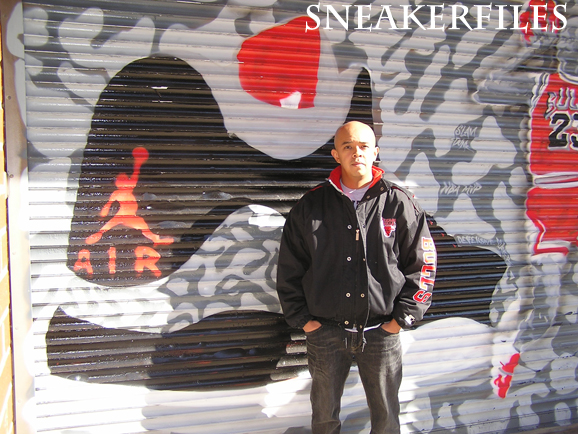 Whats your story on the Air Jordan III?
"I got my pair of III's when I was in sixth grade. Yeah, right when they came out in 88. I got them and went to a really small grammar school. I was the only kid that was able to get them. Nobody else could afford them. I remember rocking them and I remember the little elastic side to hold the tongue in place. That really threw me off because that was the first pair I ever saw that had that like, technical advancement. I bought a retro in 94 and still have that pair."