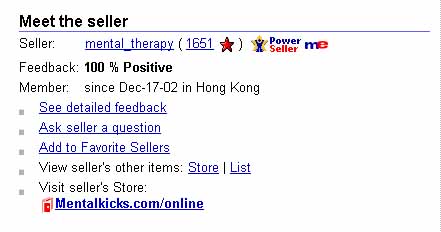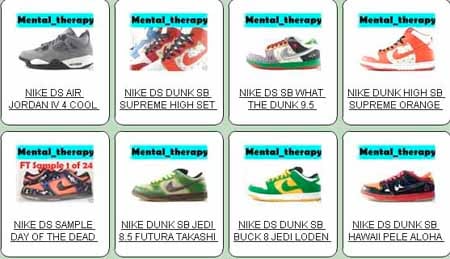 At this time of the season, Sneaker Files is often questioned by our readers as to where to safely purchase authentic Nike Dunks and Air Jordans. In our first effort, we created an authentic sneaker search engine which searches sneaker selling websites with a solid reputation.

This Holiday season we have been profiling eBay sellers whom we admire for an outstanding online reputation. We hope to help with your Holiday shopping and we feel your pain when you buy a fake pair of shoes.

Today SneakerFiles.com shines our light on eBay authentic shoe seller, seller 'Mental_Therapy.' Weighing in with close to a 1,600+ feedback rating (100% positive), Mental_Therapy's auctions feature some of the greatest shoe gems around, including Nike SB Samples which have never released. Mental_Therapy sold a pair of Freddy Krueger SB Dunk samples well before they were poured from various leaks.

For those who are looking for rare Nike Dunks, Air Jordans, Air Max, and other hard to find brands and styles, check out Mental_Therapy on the 'Bay.

Peep Mental_Therapy's auctions by clicking here!

Are you a reputable seller? Have you had some great experiences with a particular auction seller? If you (or know of a seller who who should) qualify for our 'Bay Seller Spotlight', send us an email by clicking here!