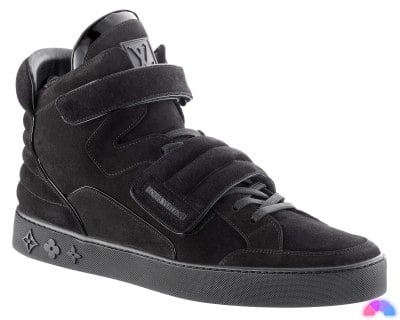 Kanye West, or Martin Louis The King Jr. (the nickname he declared he wants to be now called since he dropped Kon the Louis Vuitton Don), has been in the sneaker news world quite frequently in the past year. From the shoes he wears to the shoes he creates, Kanye has always created some buzz.

Right now we have some further info and pictures on the line of Louis Vuitton sneakers that are set to come out sometime in June 2009. For the low top edition, called the Don Low, we've already seen detailed pictures of the all red colorway and now we see another more detailed picture of the all black colorway and the brown / beige / pink / white colorway. For the high top edition we get some more pictures of both the all white and all black colorways as well as the off-white / brown / pink colorway. Both models of the shoes come with an extended backside, presumably to tuck the ends of your pant legs in, and tassel ends for the shoe laces. The only obvious difference between the high and low tops are the straps that are only on the high tops.

No price has yet been set on these, but they will definitely be high due to the Louis Vuitton name.
Via BKRW.