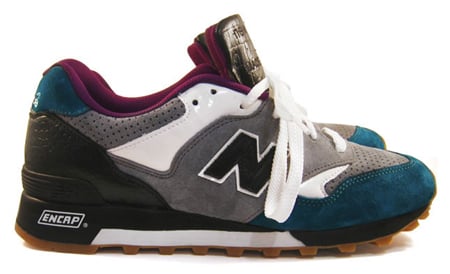 A few weeks ago we reported an upcoming collaboration between Dutch boutique and the New Balance 577, now we get a better look at the multi-colored sneaker and are provided with solid info. Arnie of LFSTL decided to the cockroach as his main source of inspiration, one of the oldest and high involved creatures on this planet. The cockroaches adaptive style is paired with a classic model, the 577.
Furthermore, the sneakers also pay homage to Rotterdam, a city made up of different styles of architecture, attributed to WWII. In addition, the sneakers are composed of a grey, black and white palette, three colors commonly found on Rotterdam buildings.
Accents of petrol noting the industry and harbor, while purple indicates the evolving architecture scene. However, these sneakers wouldn't be complete without a variety of other elements including gum sole, pig skin suede, premium croc, white patent leather and perforated suede, a subtle combination illustrating the versatility of the 577. Release is set for October 25th. Via Sneaker Freaker.