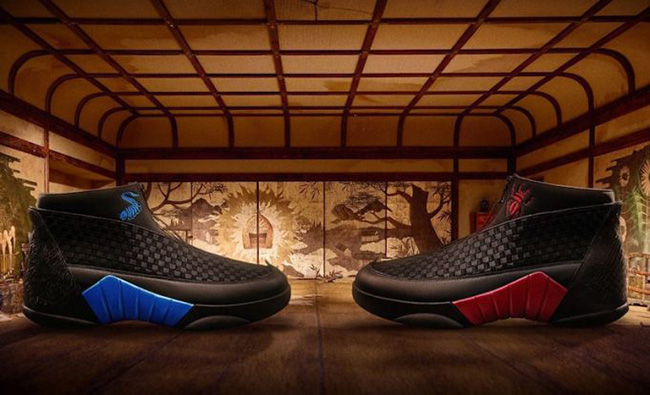 The Kubo x Air Jordan 15 Tinker Hatfield collaboration is another partnership between Nike and LAIKA for the movie 'Kubo and the Two Strings'.
The Kubo x Air Jordan 15 isn't the first pair that Nike and LAIKA have connected on. Previously the two have released sneakers for the films ParaNorman, Coraline and The Boxtrolls.
"People ask me all the time, 'What's your favorite Air Jordan and what's your least favorite?" Hatfield told Complex. "Sometimes I'll say my favorite is the Jordan XI, and a few times I've said my least favorite is the Air Jordan XV."
Tinker went with a unique theme on the Air Jordan 15. The left and right shoes are mismatched, while using Blue and Red that tells the story between good and evil, what the movie is based off of.
Over 300 pairs of the customized Jordan Brand sneakers celebrating the spirit and magic of the movie's young hero Kubo are being made available to fans who compete to win pairs through exciting multimedia platforms. The ways to win are as unique as the shoe itself.
Complex will also announce an online sweepstakes beginning later this week, hosted by the website, where its followers will have a chance to win one of five pairs of the Kubo x Air Jordan 15.
Separately, timed to the "From Coraline to Kubo: A Magical LAIKA Experience" opening August 5th at Universal Studios Hollywood's Globe Theatre, Kernel (www.kernel.com) will offer the website's ticket buyers to the interactive event a chance to win a pair as well.
On August 8th, the Just Keep Livin Foundation (www.jklivinfoundation.org) will host a live eBay auction with dozens of pairs of Kubo x Air Jordan 15 sneakers up for bidding; all the proceeds will go to the Foundation's programs that teach the importance of decision-making, health, education, and active living.
Finally, on August 11th, gamers will be able, as Kubo, to battle the Moon Beast in the fifth game available online at the official Kubo and the Two Strings website www.kubothemovie.com can compete to be in the top 250 scorers and win a pair of Kubo x Air Jordan 15s.
Update: The Kubo x Air Jordan 15 auction is now live on eBay. Currently 200 auctions are now live with prices between $500 and $1,225. Good luck!
Please enable Javascript to watch this video