Kim Kardashian went off on Twitter against Yeezy Mafia over a tweet that has since been deleted, however there is a screenshot. The initial Tweet by Yeezy Mafia says that retailers were invited to a showroom for YEEZY Season 7, however it was empty and were told that no apparel and accessories will be available.
Kim K then quoted the Tweet by YM saying his claims were false and called into question how can an account become verified with false information. She also went after a few other verified Twitter accounts known to leak information.
Currently Yeezy Season 7 has yet to be unveiled so we will have to wait and see what will be available. For now you can check out the Tweets below along with the deleted tweet by Yeezy Mafia. Make sure to let us know your thoughts in the comments section.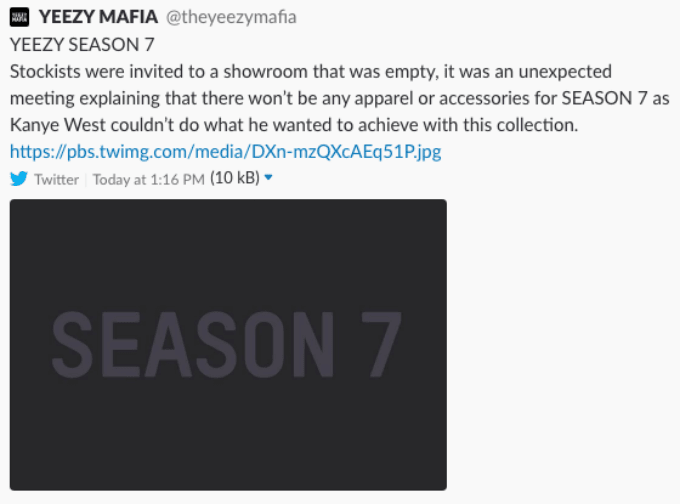 How can a verified account represent Yeezy with false information. You do NOT work for Yeezy and NOT affiliated. How are you gonna believe an account that posts fake color ways 😂😂😂 https://t.co/xkaYC98G7u

— Kim Kardashian West (@KimKardashian) March 6, 2018
Season 6 was genius. All of my Japan looks are season 7 & will be online soon. Yeezy does not play by fashion rules. The show room was strictly shoes & always intended for that. https://t.co/xkaYC98G7u

— Kim Kardashian West (@KimKardashian) March 6, 2018
YEEZY HAS ITS OWN UNIVERSE #SEASON7

— Kim Kardashian West (@KimKardashian) March 6, 2018