Besides Michael Jordan, Carmelo Anthony is the longest member on Jordan Brand and is now on his 11th signature shoe out of 12 seasons. Today JB has officially unveiled the Jordan Melo M11.
Jordan Melo M11 Technology
Carmelo Anthony wanted a shoe that "stayed fresh" for all four quarters of the game. With that being said Jordan Brand had to fill big shoes and they did so buy using the brands popular FlightPlate. The FlightPlate features a moderator plate placed directly over the forefoot Nike Zoom unit to create a larger sweet spot and ample cushioning. The uppers will use a molded collar to enhance ankle support as well as synthetic leather for additional support and lightweight durability. As you can see, the brand has added more perforation to allow your feet to breathe. JB also updated the foam heel counter that integrates into the midsole allowing strength and supper for the collar while a webbed strapping system wraps the foot to provide a better lockdown.


Jordan Melo M11 Transformation
Over the summer Carmelo Anthony went over a body transformation by loosing weights and dedicating himself to intense workouts. He would also host games at Jordan Brand's Terminal 23 in New York. In turn, Melo wanted the M11 to have a more sophisticated look that will match a clean color palette. He also wanted hues and patterns that could tell his stories.

Jordan Melo M11 Colorways
Each colorway will have it's own story based on Melo's life events and pastimes.
Melo M11 Red Hook Sunset
Melo was born in the Red Hook projects in Brooklyn and he will never forget his roots. As he strives to be the greatest on and off the court he remembers his early days of the Sunsets of where he was born. The release date for the Red Hook Sunset Melo M11 is March 1st 2015.

Melo M11 Jordan Family
The Jordan Brand family has supported Melo over the years and he wanted to show his support back by releasing a red, white and black colorway that was worn by Michael Jordan. It also pays tribute to when Michael Jordan and the Chicago Bulls rivaled against the New York Knicks through the 1990s. Launching January 3rd 2015.

Melo M11 Concrete Jungle
Inspired by one of the world's greatest cities, the Concrete Jungle Melo M11 features grey across the forefoot resembling the streets while the multi-colored detailing on the tongue is a tribute to the brightly colored graffiti that can be seen. The speckled midsole represents the bright lights of the city that never sleeps. Releasing January 3rd 2015.

Melo M11 Black / Gold
As a tribute to Melo's fans, starting today Carmelo Anthony will poll his social media following to ask what the nickname of the Black and Gold pair should be. This is a first time Jordan Brand has done something like this. Starting at 7PM EST you can vote by tweeting @CarmeloAnthony. Results later will be posted on his twitter as well as @Jumpman23. Available on January 3rd 2015.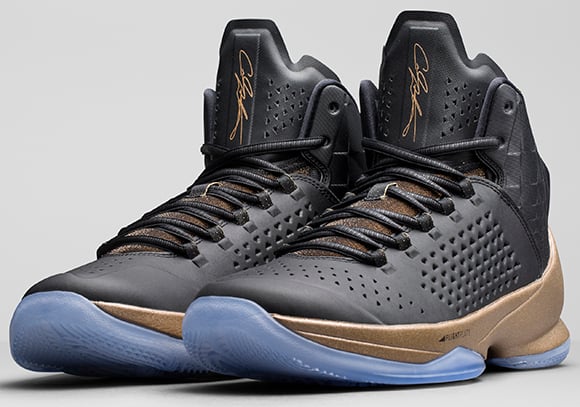 You can pre-order any of the Jordan Melo M11 now at Nike.