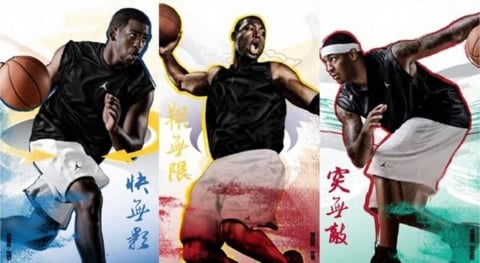 Despite the lockout still looming, the international impact of the biggest stars in the NBA still reaches out to every corner of the world. After the announcement of Yao Ming's retirement, the void of big name basketball in China will be filled undoubtedly with three of the best ambassadors of the Jordan Brand, Chris Paul, Dwyane Wade, and Carmelo Anthony.
These three will make appearances and play in many events at Hong Kong, Beijing, Chengdu, and Hangzhou from July 26th to August 3rd. An exclusive tour in China would not be complete without new "China Flight Tour" editions of the perennial All Stars' current signature sneakers, the CP3.IV, the Fly Wade, and the Melo M7 Advance.
The CP3.IV and its accompanying t-shirt utilize a combination of Red, Yellow, Blue, and White, all meant to represent the speed and quickness in Chris Paul's playing style.
The Fly Wade and its accompanying t-shirt feature Red, White, Yellow, Purple, and Black, together to symbolize the high flying and above-the-rim game of Dwyane Wade.
Finally, the Melo M7 Advance and its t-shirt use Red, Black, White, and an Emerald Green to highlight the explosiveness of Carmelo Anthony on the court.
Images via weibo Jordan Brand
-F4STBREAK