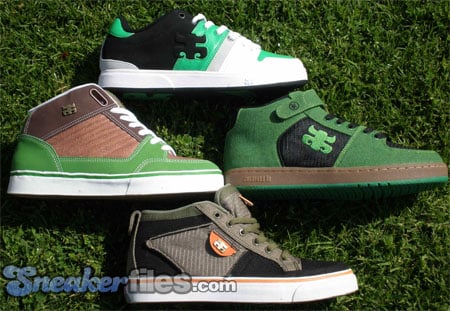 IPATH has just presented their St. Patrick's Day series in which each shoe utilizes the St. Patrick's Day colors, which always include the traditional Green. IPATH's first model from the series is their staple model, the Centennial which has been around since the company first started up.
It features at triple stitched synthetic upper which provides a great deal of durability. Next is the Fred Gall, an updated version of the pro-model with green accents and a synthetic upper and hemp. In addition, a vulcanized sole and removable ankle strap add extra support and comfort.
The third model from the series is the Grasshopper which is composed of hemp and Coconut Honey Comb Tech insole which also provides comfort. The Wharf model is the fourth sneaker from the series and features rip-stop nylon and a lightweight outsole. Lastly, the Capitola is the last model from the series and sports a more casual look for any type of occasion. Look for the St. Patrick's Day Series from IPATH to release next week in-stores and online.