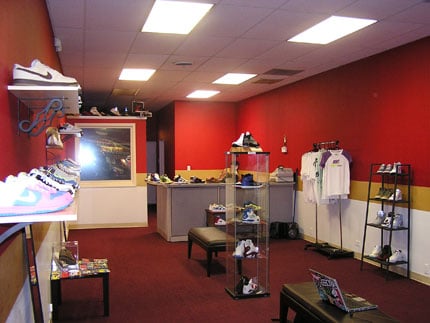 Morton Grove IL,
Have you ever seen so much heat in a suburban shop that has only been open for a week?
AJ and his brother Ali, came up with an idea to open a sneaker boutique where none can be found within 50 miles. AJ created Sole Addiction to share the sneaker culture with Morton Grove, a suburb to the north of Chicago; bringing exclusive heat without so much rape in the price.
AJ said, "We wanted to bring heat to the 'burbs. Something that people haven't seen around here, because we're the closest store in the 'burbs to inner city boutiques. We carry anything from SB's, Jordans, Air Force 1's, Air Maxes, Converse and [there are] a lot of other new products that we plan on carrying in the future."
While most boutiques start up with general releases for display, Sole Addiction has already begun the heat wave by carrying infamously hard-to-get kicks such as De La Lows, 2001 Jordan 1's, OG Jordans, Premium and Supreme Air Forces and a lot more!
More pictures after the jump!!!!!!!!
Note: Prices will amaze the #!@# out of You!
Call in for prices and shipping!!!!
Sole Addiction
5848 Dempster st.
847 470 0442
– Oscar Castillo aka WreckinkickzxSelf-Conscious
www.myspace.com/wreckinkickz