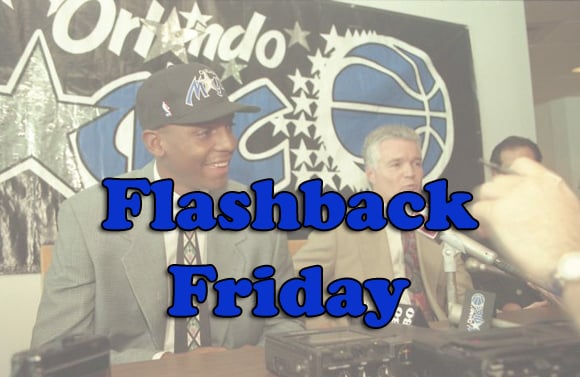 In 1993, Penny Hardaway was chosen 3rd overall in the first round of the NBA Draft by the Golden State Warriors. Almost instantaneously Golden State swapped Penny for Chris Webber which ended up sending Penny over to the East and eventually making Orlando his new home.
Within Penny's first year as a professional NBA star, he signed a deal with Nike for an initial 5 years, worth $8 million dollars. The first on court Penny sighting saw the future All-Star laced up in an OG pair of Air Jordan IX PE's, something most of you fondly remember.
While Penny looked great in J's, it was only a matter of time before he ended up rocking his own Player Edition sneaks made in the ever so popular Orlando colors gracefully placed along the upper.
Air Jordan 9 Original Penny Hardaway PE
Penny Hardaway in Air Jordan 9 PE
Front view of the Away Jordan 9 Penny PE
Penny Going Hard in his Air Jordan 9 OG PE's
Back View of the Air Jordan 9 Penny Hardaway Player Exclusives