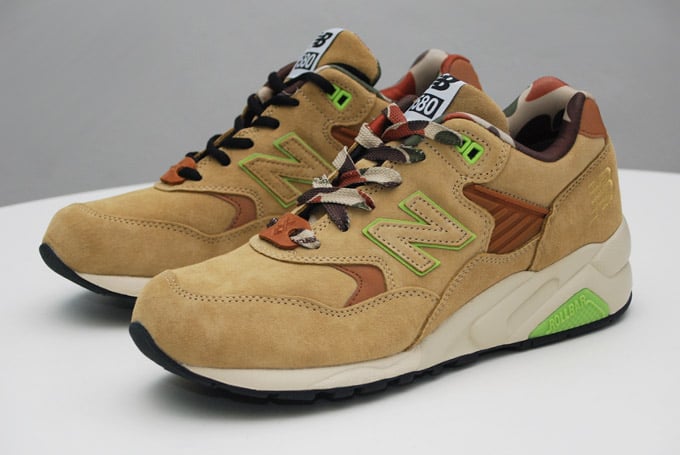 Coming to retailers like Crooked Tongues this February is a collaborative edition of the New Balance MT580 alongside Fingercroxx.
New Balance has been a brand we've been passionate about for a long, long time, but we really didn't ever think the MT580 would be a serious currency in 2013. With preview shots of this shoe bruising Instagram, we thought it was worth taking a closer look at this SMU. We spotted this in the order book as a collaboration late last year and couldn't work out the FXX in MT580FXX stood for. It transpires that it reps for Fingercroxx, who've got plenty of stores rolled out across Hong Kong, as well as Hong Kong's Double-Park. With a utilitarian skate and hip-hop aesthetic that's not a million miles from Tokyo's realmadHECTIC who, after mita, made us love the MT580 in the first place, back when it cropped up occasionally in Stussy stores or Footpatrol and cost a zillion pounds a pair. But that was a decade ago. Now it seems that the tech trail looks of the MT580 are catching on globally. One of the best things about the MT580 is that it's so damned mysterious — it has little relation to the 1990s 580 running silhouette and appeared in Japanese stores in the late 1990s, upgrading an existing shoe number like the MT575 did a few years before for some fictional mountain use. But whereas the Rollbar assisted 585 and 586 from around the same time were real performance, the MT580 was presumably made for posing.
New Balance US are currently putting out an American-made 587 that brings back another part of the 580 series for your edification. But the hype hordes will have no time for that shoe — they're all about these SMUs, which we're assuming were created for Fingercroxx's 10th anniversary in 2012. And who can blame them? The details are on point throughout and what looked a little messy on first impressions has understandable appeal. The light brown suede, off-white midsole, lime/electric green Rollbar and the fact they sourced a matching green Scotchlite backing for the 'N' as well as brown Scotchlite too to accompany the the duck-style camo lining, leather lace "jewel", corresponding camo lace option and a thoughtful Scotchguard application all indicates that some thought went into the process. After the success of the West edition, our paltry quota of these is going to lead to a slow server and some furious Tweets when they drop in the Crooked Tongues store on the the 22nd of February.