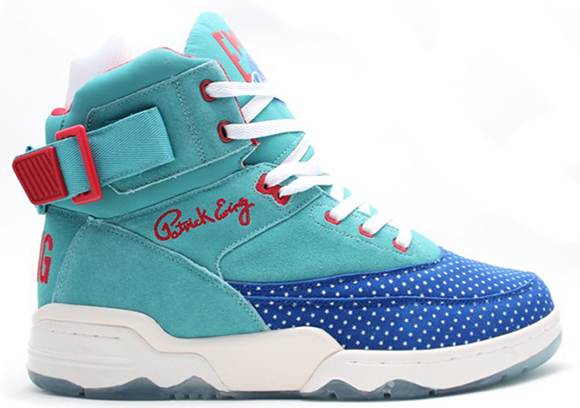 Ewing Athletics will also join in on the 2015 All Star festivities while using the Ewing 33 Hi. It's only right they do so as Patrick Ewing's signature sneaker and playing for the New York Knicks.
Going way outside the theme of All Star sneakers this year, the Ewing 33 Hi takes us back to the 1990 All Star game that took place in Miami. That game was the first time Ewing debut the 33 Hi. Using suede in a bright shade of teal, red is seen on the eyelets, Ewing's signature and other hints throughout. The front part of the toe box comes in a royal blue with white stars while the midsole dawns an off-white shade.
Although a specific release date for the Ewing 33 Hi All Star has yet to be announced, but they brand has said a limited amount will release in February.