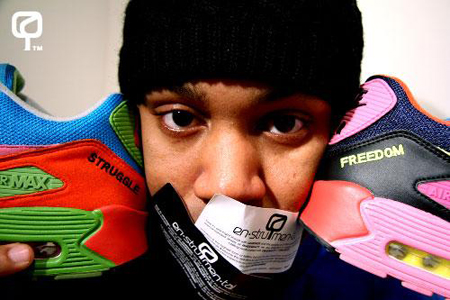 In the quest for self-expression, apparel & sneakers have always run side by side, together providing the innovative definition to one's identity. Enstrumental is a new Chicago based clothing company whose purpose is to create products that reach beyond the expectations of the masses, this includes sneaker heads. Founded in June 2006 by D.K. "Drew" & Christopher Coutee-Bouyer, Enstrumental desires to produce clothing that overlays lame, distasteful, & meaningless expression. Whether its apparel or sneakers, lust for creativity, not brands.
From working with artists like Lupe Fiasco, Enstrumental has been worn by many artists such as, GLC, Just Blaze, Saigon ,Lupe Fiasco, Paul Wall, Needlz as well as local artists in Chicago.
Drew Says,
"Sneakers are a culture, apparel is a culture – they both work in conjunction to define fashion as a culture, especially when it comes to the urban, street wear, boutique-minded consumer. The goal is not necessarily to cater to the sneaker head but we just figure that coming out with dope apparel period, sneaker heads are going to consume it and we will assist them in providing the definition to their own character. Someone in a sense expresses themselves through a Dunk, Jordan or Air Force One. It's the same thing with clothing. If you can express yourself with a dope tee and a dope shoe, then you've freaked your overall fashion ambiance in an effective manner.
Message in the fashion,
Enstrumental has dropped 4 Limited Edition tees so far. They collaborated with the 3 of the major sneaker boutiques in Chicago (PHLI, Self-Conscious,LEADERS 1354) to create the "We Need PHLI,SELF-CONSCIOUS,LEADERS" tee. They dropped the "Always Remembering" tee that was dedicated to the fallen pioneers and prophets of hip hop that passed away, that left the store shelves and websites upon arrival. They also collaborated with Lupe Fiasco (1st & 15th) & FTK to produce a tee. They recently dropped an OBAMA tee, in an attempt to bring fashion and politics together in creative intercourse.
From a fashion aspect, Drew says,
"Chicago's been on sneakers and clothing; AF1's, Polo, we are definitely in the family of initiators. You got major sneaker heads in Chicago. From the clothing aspect, I don't think we get as much love as LA or NY. There are some dope lines out here such as Fashion Geek and PHLI to name a couple. From a clothing aspect, we want to help bring Chicago to the forefront in regards to coming out with clothing that symbolizes originality and creativity; just like we assisted bringing this sneaker hype to the forefront"
Full line will drop June 2007
-Oscar Castillo
You can purchase Enstrumental Apparel at:
www.enstru-mental.com
www.myspace.com/enstrumental
www.ftkonline.com
LEADERS 1354
Self-Conscious
Or call the store at (410) 258-8876, or (708) 646-4342