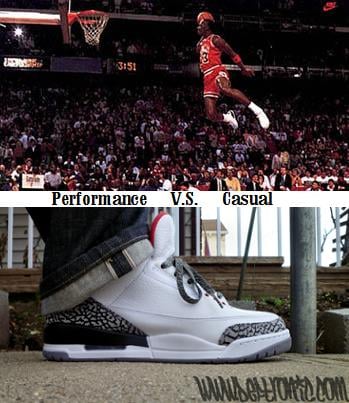 Last weekend we had our first discussion thread in which we chose the 'Big 3' out of Nike's basketball history (so far) asking you, which boasts the best overall performance? While going over the comments, I had one that stuck out and has carried itself over to be the topic of this weekend's thread… Why worry about performance at all, if it doesn't look good casually then who cares?

I hate to say it… but this is very true, especially today. While growing up in the 80's & 90's, rocking a pair of Air Jordan's meant that you were somebody… usually you were just a nobody wearing J's, but hey, it made you feel 'Like Mike' right? However, at the original time of each shoe's release they each had a specific purpose yet it's safe to assume that most performance shoes sold aren't exactly used for their original intent.

These are sneakers, not just any sneakers; these are in fact performance sneakers. You buy runners to run, trainers to train and hoop shoes to hoop in… right? I mean, we don't ever see anyone rocking cleats with a pair of jeans do we? And no, the kids dragged to Starbucks with their Mom's before practice doesn't count.

Someone like me purchases numerous amounts of sneakers per year with two intentions, casual & performance. But we sometimes forget what the brands themselves never have; most people buying these shoes are not athletes. Are we to blame for the lack in quality and increase in price? Take the Bin 23 series for example; we are now forced to pay a premium for a sneaker with 'Grade A' quality and materials when that used to be the norm. Let's face it, most people don't want to spend $160+ on a pair of kicks their going to trash on court & most of us when growing up were given only one pair of shoes by our parents per year so making them last as long as possible was a must.

With that said, what are your thoughts on the subject… performance versus casual? Is spending $160+ on a pair of shoes because they are a great performance driven sneaker worth it or are the masses only buying the shoes for 'Swag' so they better look good or it's an automatic fail?