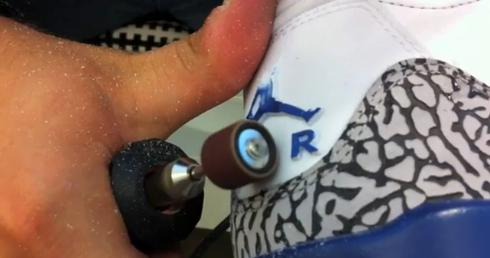 Customs sneakers, some love them, others hate them. I've even been reading people saying customs are on the same level as fake sneakers.

Honestly, I don't quite understand the concept of a custom being a 'fake' sneaker, unless a fake pair was used as the template. A lot of people complain about Nike Air missing from certain Retro models, so someone figured out a way to remove the Jumpman and replace it with the beloved Nike Air… this person has done so on a pair of authentic shoes. How does this make them fake? In my opinion, it makes them unique.

We can all appreciate the work that goes into designing and creating the shoes that we all love. From new models to Retros and even new colorways on Retro models, it's a creative process from start to finish that ends up either making or breaking a potential purchase.

I can see how some might correlate a custom piece of work as a fake seeing as how fakes are categorized as replicas of the 'real' or original product. However, I don't understand why there is so much hate for one type of custom, such as returning the Nike Air to your Retros, and another type of custom where someone paints a new 'skin', so to speak, onto the upper which ends up being perceived as genius.

What is your honest opinion on custom sneakers? Do you enjoy seeing the creativity behind the finished product; does your stomach turn every time you see a fresh pair of shoes 'ruined'? Maybe you could care less either way since the shoes used in the project aren't yours to begin with. Either way, let us know your thoughts on custom kicks in general; would you ever consider customizing yourself or pay a custom artist to take care of the task for you? Would you rather leave well enough alone and just purchase what Brands give you?

Image Via dedoy82