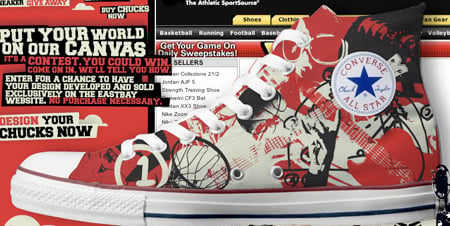 Converse and Utah Jazz Small Forward Kyle Korver have just announced the MyChucks contest, which gives participants the chance to design a Chuck Taylor All Star and win the grand prize of having their personalized Converse All Star exclusively sold by Eastbay. The MyChucks contests is a great way for contestants to demonstrate their talents and skill by applying to Converse's All Star.
Furthermore, Kyle Korver designed his very own All Star that is currently on the MyChucks web site and there is also a video to accompany the shoe. His All Star features various items that are significant to Korver and his life. In addition, Converse will only produce 226 pairs of the shoe, referring to Korver's jersey number 26. The proceeds will be donated to the Kyle Korver Foundation. You can enter the contest now by browsing over to mychucks.eastbay.com, where a download kit may be retrieved along with contest instructions. However, designers must submit a scanned image of their design and a 20-30 second video that explains their All Star.
The All Stars will be hosted on the website and votes will be tallied to see which is the most popular. The top five designs that recieve the most votes will go through a final round of judging and will be judged on artistic ability, creative expression and overall design. Converse and Eastbay will announce the Grand Prize winner on July 11th, 2008 on mychucks.eastbay.com. The Grand Prizer winner will be flown to the Converse headquarters, where he/she will work with designers and others to re-create their shoe. The final version of the shoe will then be produced and sold on Eastbay.com in January 2009.