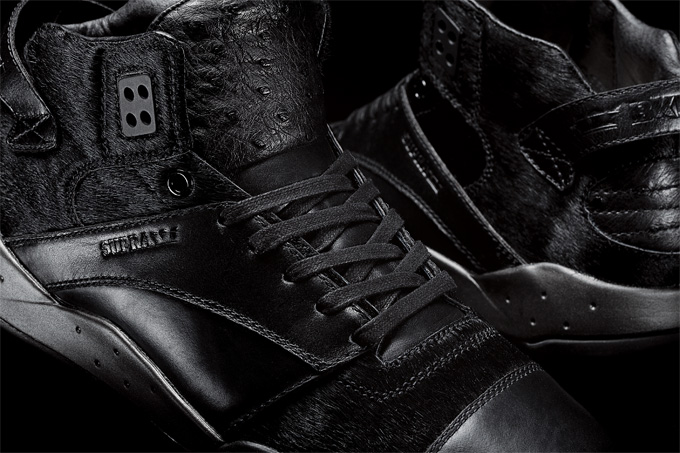 Paris's BKRW has teamed up with Supra for a special, premium edition of Chad Muska's signature Skytop III.
In collaboration with the French creative powerhouse, BKRW, SUPRA has created an all black, handmade Skytop III constructed from a variety of unique materials including varnished full-grain leather, pony fur, and ostrich skin. The limited edition Skytop III has a leather heel pull and its interior is lined with leather. 
"SUPRA and BKRW were nearly born at the same time and we've worked together ever since," said Jay Smith of BKRW. "Regarding the BKRW Skytop III, Greg [Hervieux, the other half of BKRW] knew since the very beginning what he wanted to do with SUPRA: make a high fashion, premium shoe. He wanted to create a clash between skateboarding and John Loeb, or J.M. Weston, by using premium fabrics, and he also wanted to give the famous Skytop III upper cage an entirely new interpretation. The luxury market has always cut and pasted our culture, so we thought it's payback time and let's show them how we can rape and twist their styles just as they've been doing to us." 
The BKRW Skytop III comes in a premium, matte black box with a microfiber shoe bag, and is packaged with a shoehorn and a pair of wooden shoe trees.
"A collab project creates not only an object," Jay said, "but also a real human and creative bond where the partners involved are pushing and feeding off of each other to attain their highest levels of creativity." 
A very limited number of the BKRW Skytop III will be available at BLACKRAINBOW in Paris on Saturday, September 29.
BLACKRAINBOW  
68, rue des Archives 
75003 Paris
+33 1 44 54 97 54