Benjamin Nethongkome who has taken over as designer of Irving's latest signature line. The Nike Kyrie 4 will first release in the 'Confetti' colorway this Saturday, December 16th. Following the Black and White edition debuts on December 20th.
Nethongkome and Irving first met on Wednesday, September 7, 2016, during a meeting to firm up release plans for the KYRIE 3. During the session, Nethongkome was announced as the future lead for the line, a major career step and one that wasn't without chills.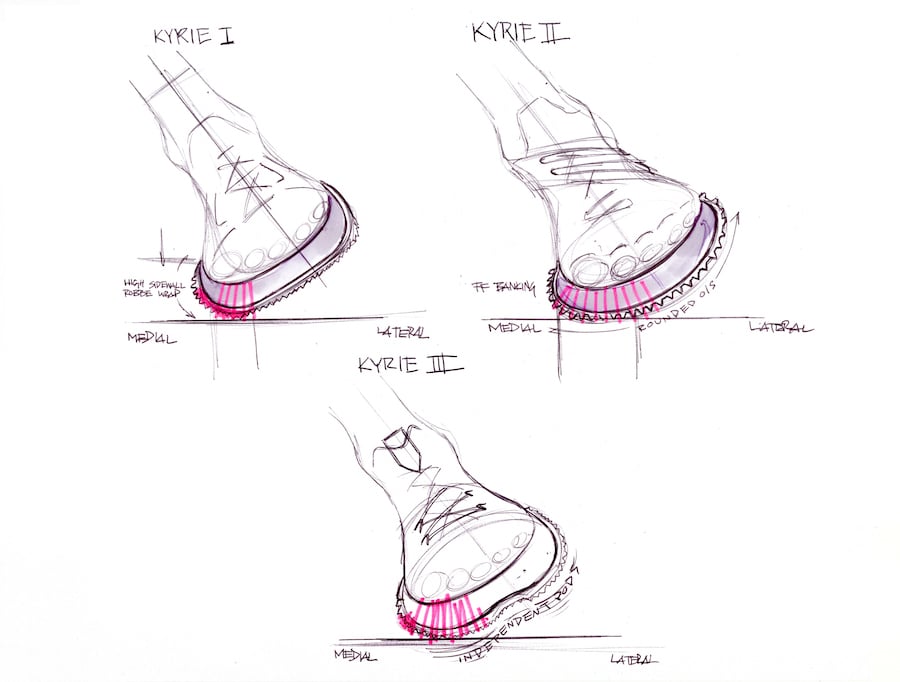 Nethongkome's ideas for the Nike Kyrie 4, which are based on Irving's desire to improve underfoot cushioning (solved with the application of Cushion midsole Zoom Air heel unit) while simultaneously making him quicker on the corner, are most overtly realized in the outsole's zig-zag flex grove. Effectively decoupling the sole, this feature enhances traction and response from side to side, forming more seamless transitions. Once again, the outsole wraps up and around the foot, this time forming a fanged sidewall that emphasizes that the shoe was built for speed.
Secondarily, the material choices and blocking are influenced by Irving's interest in vintage Nike and Jordan silhouettes — a passion shared with Nethongkome.
The Nike Kyrie 4's blocking follows suit. The forefoot is built of a zonally engineered mesh, an upgrade from previous KYRIE silhouettes and one that provides both containment and a softer feel. The transition to the heel introduces more classic materials — many versions of the KYRIE 4 will carry a suede or leather — which not only feel great but offer opportunity against a new challenge: how people watch the game today.
Nike Kyrie 4 Confetti
Irving carries around a piece of confetti from the last game of the 2017 NBA Finals as a constant reminder of how it felt to fall short of victory. The Confetti colorway honors Kyrie's win-or-learn mentality.
The Nike Kyrie 4 'Confetti' releases on December 16th at select Nike Basketball retailers including Nike.com. They will also be available at House of Hoops locations in Boston, Cambridge, Harlem and Wayne, New Jersey as Irving laces up when the Celtics play the Jazz in Boston at 7:30 pm EST.
Nike Kyrie 4 Black White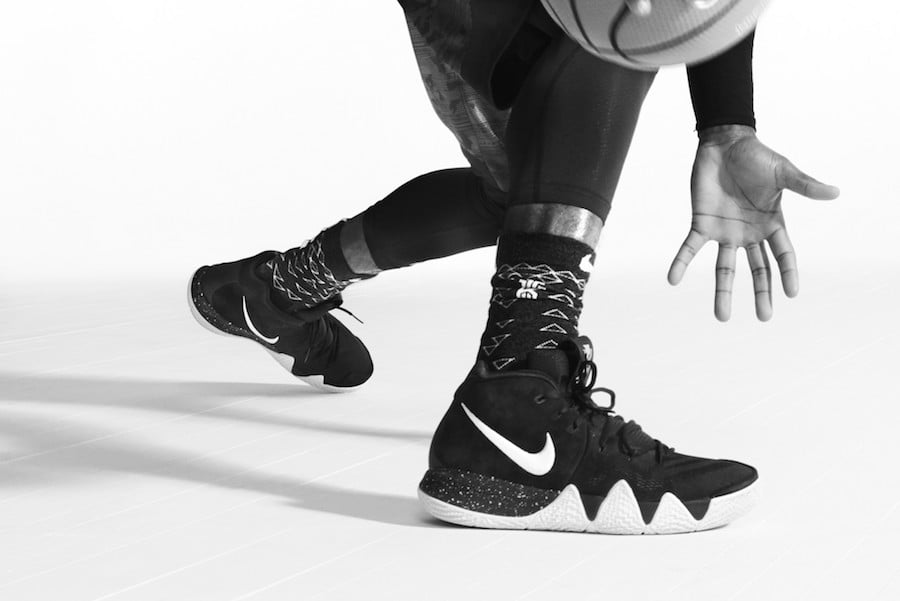 The Nike Kyrie 4 Black White will release on December 20th at Nike Basketball retailers including online at Nike.com. Retail price will be $120.
For more colorway of the Nike Kyrie 4 along with release dates and more, click here.