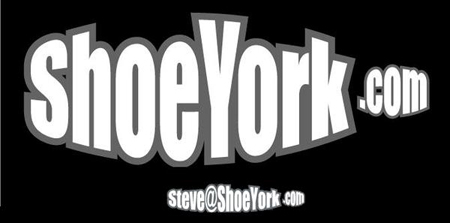 Our friend Steve from Shoe York wrote an interesting piece on the history of Nike footwear technology. He brings up Nike technology of 35 years ago (a sole made from a waffle maker), and explains how Nike repackages and microbrands such dated technology.
Appetite for technology? Nike met its self-imposed "Air Tech Challenge" 17 years ago, but has since lost the once-vibrant flaming ball in the tennis shoe market. Will Nike Basketball and the Jordan silhouette follow suit?
A Waffle maker provides a lead role to a Film Maker. The inflated/re-issued Penny from heaven gave us carbon during a brief "Air" shortage. Air Tech has lost its original vibrant flaming ball. Is there a need to ignite it?
Sneakers were created to be worn, not collected. We did it to ourselves. And as we asked for more, Nike delivered. It has been proven by consumer warrants (via internet forum polls/petitions) that any given shoe will be released as a retro model . Popular Air Jordan colorways have been used as many as three times for specific models (including the original release). "Business 101" class teaches the chain of "supply and demand" on day one. Jordan brand has simply capitalized by using the common business model. Original and early retro releases have been de-valued by the saturation of retro releases. Regardless, most shoes made ten years ago are no longer wearable, even if stored in one of Jordan's humidors.
In terms of fashion, the word "retro" is defined as "fashionably nostalgic." Jordan Brand, as well as most Nike product lines currently focus on the theme of nostalgia, over technology. Nostalgia is a frightening word when pertaining to a brand consumed by and targeted to young people with heavy disposable income.
Andre Agassi, a former Nike "Poster Boy" helped launch Nike's run at marketing Tennis shoes. The "Air Tech Challenge" was the brand name of the Agassi line. Agassi's name never appeared on a shoe or shoebox; however flamboyant tennis ball logo appeared on the back of the shoes. Currently under contract with Adidas, Agassi owns the rights to the "Flaming Tennis Ball" logo. Without using Agassi's name, logo, or likeness, Nike recently re-released the "Air Tech Challenge." The once-vibrant yellow accents of the shoes, reminiscent of a streaking fluorescent yellow highlighter, have been replaced by an incomparable design; bearing few similarities to the classic shoes.
35-years-ago, a waffle maker was experimentally used to create a physical model for the original Nike outsole. Current Air Max models carry few modifications from the ancient waffle-square framework. Since Nike met their self-imposed "Air Tech Challenge" 17-years ago, few challenges for technology or originality have come (excluding the originality and themes of the SB line). Micro-branding mass brands (i.e.; the evolutions of the Jordan, Air Max and Air Force lines), stem from an original brand, and are not examples of true revolutionary products.
Nike watches comfortably as we soak up their re-issued products. The current method of Nike's operation is simple. Contract the finest young athletes to be suited in a Nike micro-brand (i.e., Carmelo Anthony/Jordan, LeBron James/Foamposite, etc.). Nike signed an 18 year-old James to a reported $90 million/seven-year contract, days before he was drafted in 2003. The James contract has been backed by further investment for design and marketing. Lacking however, is the direction of a true LeBron "mass brand" and an investment in new technology. Nike created the "Air Zoom Generation" which was LeBron's signature shoe. However, the AZG is now history as Nike now uses an identical technology brand name for both LeBron and Kobe Bryant, called "Zoom" (another Nike mass-brand).
The revolutionary technology of the Foamposite was developed over 10 years ago by two companies, Nike and Daewoo Synthetic. Production molds cost Nike over $8.25 million to create. Nike's final invoice for the Foamposite easily surpassed $50 million in 1997. In the interim between '97 and '07, Foamposite technology has had little revision. Resulting from the sheer beauty of the Penny Foamposite, high demand for the retro of the shoes remained. In true Nike trend-spotting fashion, they slapped their orange boxes with a $200 sticker (an 11% increase from the inflated $180 tag from '97).
Marketing a young brand involves ferocious "Guerilla Tactics." Spike Lee was a twenty-something, enterprising, self-made, indie filmmaker when scripting the self-played character of "Mars Blackmon" for "She's Gotta Have It" (1986). Without a formal business affiliation with Nike or Jordan, "Mars" (a devoted Knicks fan), accepted that Jordan has eclipsed the legend of Bernard King as being the best Brooklyn-born basketball player. Blackmon bought a pair of Jordans, and wore them proudly; even to bed with his girl/fling. In "Do the Right Thing" (1989), Lee used a tactic of "Guerilla Marketing" by outfitting several characters in Air Jordan shoes. Before long, Lee was hired to create Air Jordan commercials. Perhaps an early sign of Nike accepting a theme of "nostalgia," the storyline of Lee's Jordan advertisements featured the resurgence of the iconic Mars character, after a three-year hiatus. Lee deserves as much credit as Jordan for the creation of athlete branding. Lee's premier advertisement set multiple marketing presidents that have been referred to for countless campaigns, even outside of sport.
Jordan and Lee continue to strike today. The demand for the widely released (GR) "Mars IV" of 2006 gave birth to yet another Nike micro-brand. The sell-out Spiz'ike, alongside the "Do the Right Thing" themed colorway prevails throughout the 2007 Jordan release calendar. Will be see the "Do the Right Thing" Jordan VIII retro in 2008?
In all likelihood, the Jordan/Jumpman silhouette will prove to be as timeless as the faceless Ralph Lauren "Polo Player" icon. As the simple fictitious "Polo Player" carries on as a connotative icon of grace and elegance, so will to the silhouette pose of Michael Jordan.