Air Jordan IX – Air Jordan 9
Original Air Jordan 9 (IX) Release Colorways
Air Jordan Original 9 (IX) White – Black – True Red
Air Jordan Original 9 (IX) Powder Blues White – Black – Dark Powder Blue
Air Jordan Original 9 (IX) Olives Black – Light Olive – True Red
Air Jordan Original 9 (IX) Black-Dark Charcoal-True Red
Retro Air Jordan 9 (IX) Release Colorways
Air Jordan 9 (IX) Retro White / Black – True Red
Air Jordan 9 (IX) Retro Black / Light Olive – True Red
Air Jordan 9 (IX) Retro White / French Blue – Flint Grey
Air Jordan 9 (IX) Retro Cool Grey Medium Grey / White – Cool Grey
Air Jordan 9 (IX) Retro Low White / White – Chrome
Air Jordan 9 (IX) Retro Low White / Blue Pearl
Air Jordan 9 (IX) Retro White / True Red-Black Countdown Pack
Air Jordan 9 (IX) History
In 1992-1993 when Tinker Hatfield and Nike started working on the Air Jordan 9, Michael Jordan was in Asia to promote for Nike.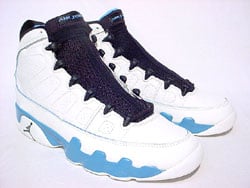 Tinker was really influenced by Japanese design. There is a lot of features on the shoe that you may not know which came from the Japanese culture.
Here is a comment from Tinker on the Air Jordan IX:
"The Air Jordan IX represented the globalization of the Air Jordan brand name. Everybody around the world wanted to be like Mike. Take a close look at the soles of the shoes, we designed the different languages around the world that describes the sporting spirit of Michael Jordan and what he has done for the world of sports."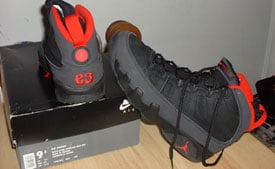 On the back of the Air Jordan 9 you will see a "Rising Sun" with the Jumpman logo. On the shoe it self there are words in different languages that best represents Michael Jordan, and those words are:
Left Shoe
Uhuru (Swahili) – "Independence"
Cвобода (Russian) – "Freedom"
Cпорт (Russian) – "Sport"
Athletisch (German) – "Athletic"
Muundaji (Swahili) – "Hope"
Right Shoe
Intenso (Italian) – "Intense"
Liberté (French) – "Freedom"
Anmutig (German) – "Graceful"
Fuerza (Spanish) – "Force"
Dédié (French) – "Dedicated"
When asked what shoe should be on the statue of Michael Jordan in front of the United Center in Chicago,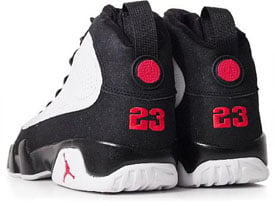 Tinker said the Air Jordan IX, because the shoe represented MJ being a "global superstar". The Jordan 9 came equipped with dynamic-Fit inner bootie, encapsulated Air-Sole unit (forefoot), large volume Air-Sole unit (heel), polyurethane midsole and "one-pull" lacing system.
The first model of the Air Jordan 9 released in 1993, and a total of four models came out that year. In 2002 four more Air Jordan IX were released, and the set price was $125.00. Two models released of the Air Jordan IX lows selling for $115.00. In 2002-2003 an Air Jordan IX Cleat was made (they came in Metal cleats and MCS 3/4).