The blueprint of the Air Jordan statement shoe is sketched at least 20 months before product launch. Working from his homeland on Oregon's Gearhart Beach, Tinker Hatfield dipped his pen in company ink in November of 2005 to conceive this early mock up of the Air Jordan XX3: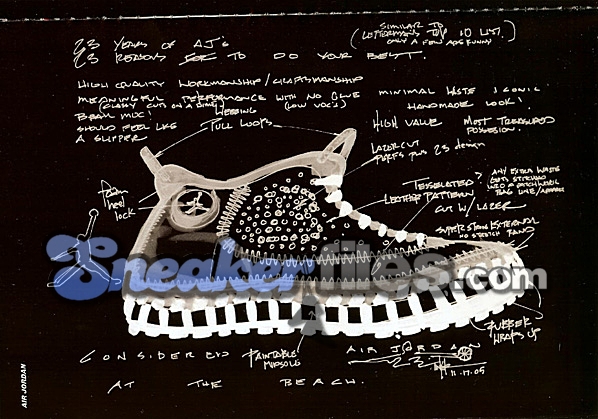 The Air Jordan XX3 (23) was unveiled to the public last Tuesday at Nike's New York headquarters. A rousing presentation of branded Michael Jordan video and anecdotal homage was cast by a panel of Tier-0 staff.
 (L:R- Tinker Hatfield, Gentry Humphrey, Hannah Jones, Roman Vega)
Most attendees at the Air Jordan XX3 unveiling represented mainstream media outlets who covered the event for what it was. Sneaker Files would have done the same, but a live Q' and A' forum emerged in the room following the Jordan XX3 presentation. Questions were posed by representatives from media powerhouses such as CNN and Market Watch. Mainstream media outlets relay sneaker information in Layman's terms for the world to comprehend, as the masses are not likely to read about a "hypothetical" concept discussion about the emerging Air Jordan XX4.

A few hours following the event, Sneaker Files published a news break that the Air Jordan XX4 (24) had been "conceived." Perhaps we ignorantly overshadowed the Air Jordan XX3 launch by publishing the Air Jordan XX4 "conceived" buzz item. Our Jordan XX4 story from last week was not a lead of misinformation or unnecessary hype. The leaders of Brand Jordan confirmed that work towards the Air Jordan XX4 is progressing in a form other than the imaginary.

Meet Gentry Humphrey (right), Footwear Business Director for the Jordan Brand, and Tinker Hatfield (left) Vice President of Nike Innovation, Design, and Special Projects: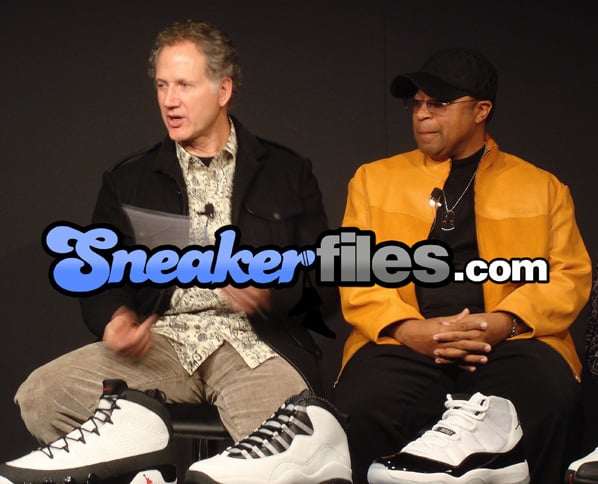 Speaking about the Air Jordan XX4 last Tuesday at the unveiling of the Air Jordan XX3, Gentry repeated and rebutted his previous statement, "If I'm around, it's going to end at (Jordan shoe, number) 23." Gentry conceded, stating "I said that thinking that I would be doing something else… Now that I'm here, I think that because of the legacy we created, it's incumbent upon us to continue to set the benchmark for the industry."

And so my friends, this is why we open our Sneaker Files…
Tinker Hatfield candidly elaborated on Gentry's words:
"It's true that we've been working on a statement basketball shoe for the Jordan line, and we have a team on it. But we don't really know (and Michael doesn't know…) how it's going to materialize."

Tinker continued, "There's ongoing design work, you bet there is!" Adding, "Personally, I'm not so sure there should be a XX4."




Finally, Tinker mentioned how it's up to our reader reactions to determine the future of Brand Jordan. Believe it or not, your comments right here on Sneaker Files and other forums of new media are being read, tracked, and considered by Nike and the Jordan Brand.