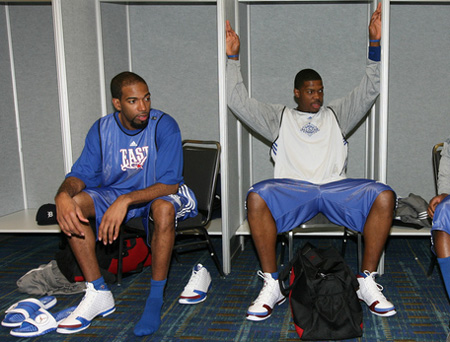 Although Michael Jordan has been out of the NBA since the end of the 2003 season, his impact on Basketball will stay forever. One way is to have everyone on Team Jordan wear the Air Jordan XX3 during the 2008 All Star Weekend in New Orleans.
Ray Allen, Carmelo Anthony, Joe Johnson, Chris Paul, and RIP Hamilton wore the Air Jordan XX3 at one point or another. Melo and Paul had on a West Coast themed Jordan XX3, Hamilton and Johnson had a East Coast Jordan XX3.
But Ray Allen suited up with the Limited Air Jordan XX3 White/Titanium-University Blue, which was a interesting site. After the first quarter, Anthony and Paul traded in the Air Jordan XX3 for their own signature shoes. Enjoy the pictures.