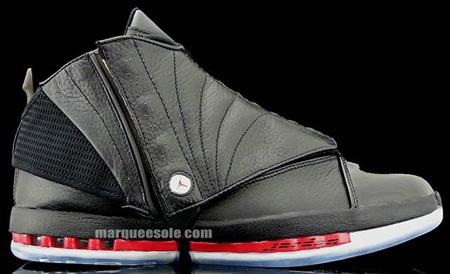 Couple days ago we posted the first viewing of the Air Jordan 16 Black / Varsity Red apart of a upcoming Countdown Pack. Now we have a detailed look with pictures showing their true beauty.
At first viewing, some confusion did occur because the Shroud was not posted with the Air Jordan XVI Countdown Pack. But rest assured they are releasing with the shroud.
As you may know, the Air Jordan 7 Hare will launch with the Air Jordan 16 Black/Varsity Red combining for another Countdown Pack. Retail is $310 and the Release Date is June 21st 2008. Via Marqueesole.