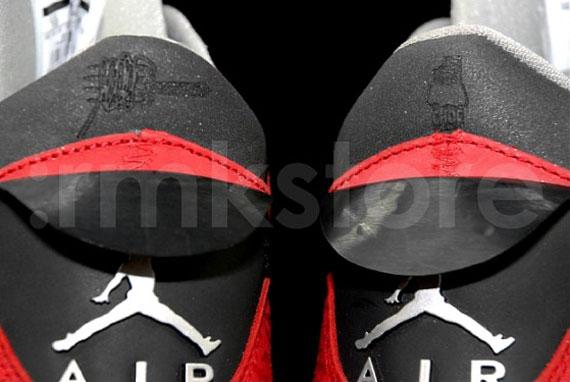 Next month the Doernbecher Air Jordan III will hit retail. We have some new images today that show off the sneaker perfectly as well as give you a look at some of the overlooked detail in the design.

Designed by 11 year old Cole Johansen, these AJ3s are the loudest to hit the market since the debut of the 'DTRT' series. Varsity red makes up the upper as we all know, along with black and metallic silver accents and translucent outsole. Take a look at what hides behind the heel tab. While I can't make out what the right shoe bears, the left shoe undoubtedly has a fork with spaghetti noodles wrapped around it… possibly young Cole's favorite food (he has good taste).

Little touches such as this makes the shoe more personal for the one who designed it, much like the Mr Boober logo on the AJ1 Doernbecher.

Via RMK