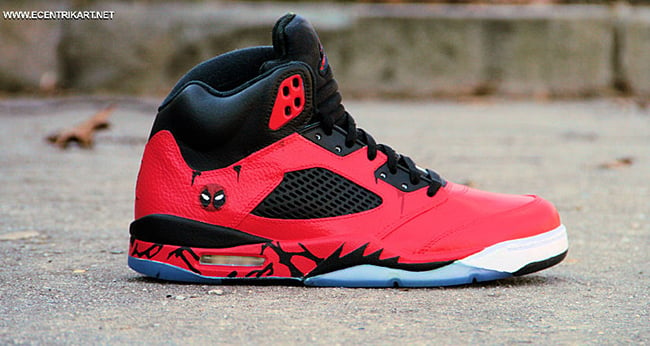 With the movie Deadpool just around the corner to release, artist Ecentrik Artistry has created a new custom for the latest Marvel Movie starring Ryan Reynolds. We present to you the Air Jordan 5 'Deadpool' Custom.
The Deadpool custom comes in predominate red and black which matches his costume. Red fills in the sides while black covers the collar. A bit of white is left on the toe cap which is followed with an icy translucent sole. Other details include the characters face on the side and the Jumpman on the heel is dressed to reflect Deadpool.
For those that are interested in purchasing the 'Deadpool' Air Jordan 5 Custom or if you would like some custom work done, visit Ecentrikart.net. Below you can check out a few more images of his latest work and while you're there, leave a comment letting us known what you think of the custom for the upcoming movie 'Deadpool' which will be in theatre's on February 12th.