Air Jordan 11 'Supreme' Custom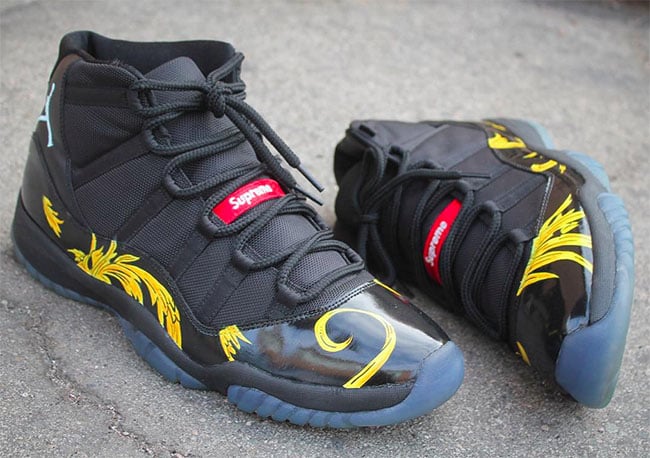 With all the hype around the Jordan 5 'Supreme' collection, while not make a custom using the most popular Jordan of all time, the Air Jordan 11. Except this Jordan 11 is not inspired by the Jordan 5 series set to drop soon. Inspiration came from the Foamposites that launched back in 2014.
The Foamposite series by Supreme had a lot of hype, but can you imagine the amount the Jordan 5s will have? Either way customizer dezinedopecustoms put his talents to work here. The Air Jordan 11 'Supreme' Custom takes the same graphic featured across the Foams and places it across the patent leather. The mesh and patent leather is also blacked out while the Jumpman logo is in white. The last addition is the Supreme branding across the tongue.
What if Supreme did do a Air Jordan 11 custom? What if this was the actual release, would you cop? Scroll below to check out a few more images and visit dezinedopecustoms on Instagram to see more of their work.
Brian Betschart
Founder and Editor of SF, Brian is considered an expert when it comes to sneakers. Collecting since he was in elementary school, his collection has grown to over 500 pairs and counting. Brian has published articles since 2004, and in 2006, he decided to create Sneaker Files.