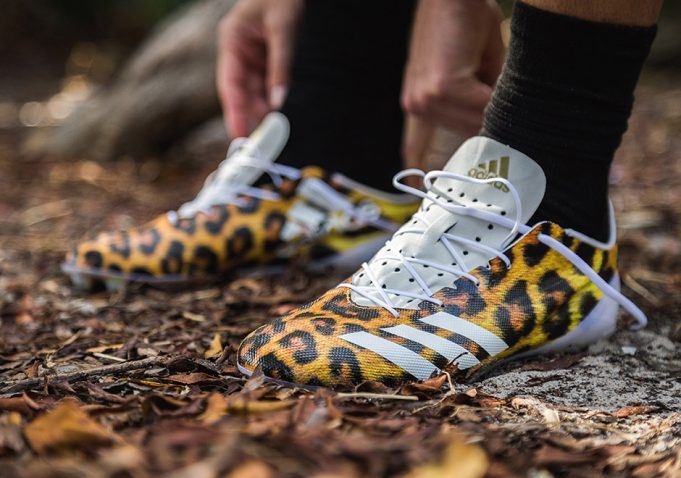 Worn during the 2017 NFL Combine, adidas Football has recently unveiled the adidas Cheetah Cleats.
Inspired by the fastest animal on the planet and crafted for the fastest players on turf, the adidas Uncaged Cheetah adizero 5-Star 40 cleats are designed for athletes who want to showcase their style while attempting to break land speed records.
Weighing in at only 4.8 ounces, aerodynamic and featuring a high-definition, digitally printed Cheetah pattern, the Uncaged Cheetah adizero 5-Star 40 cleats are specifically created for the 40-yard dash.
Constructed from an ultra-lightweight, yet extremely strong fiber, the SPRINTSKIN Ultra upper is engineered to provide reinforcement only in key support zones for elite performance. The upper sits atop a SPRINTFRAME football plate with strategically placed SPRINTSTUDS designed to provide peak performance and acceleration for the 40-yard dash.
The adidas Uncaged Cheetah adiZero 5-Star 40 Cleats are available now at retailers like adidas.com, EastBay.com and DicksSportingGoods.com. Retail price is set at $150.